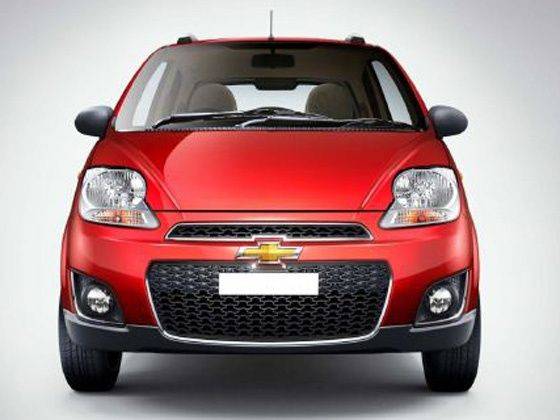 General Motors India has launched all-new Chevrolet Spark in a more stylish avatar with several new exterior features and interior amenities. A more mature and bold exterior on the new Spark incorporates a twin-port grille and a signature Chevrolet design cue to give it a more premium look from the front. The styling has been further enhanced with stylish new clear lens "quotation" headlamps; chrome accents on the grille and new graphic patterns.
The interiors on the face-lifted Spark have been completely redesigned. The primary colour, Dark Urban, flows from the dashboard and encircles occupants. The all-new Spark's premium upholstery is trendy with a new door pad design that carries a rather upmarket look. One of the interior highlights of the refreshed Spark has to be its "wing-inspired" speedometer and instruments, which feature a combination of analogue and digital displays that lend a modern feeling to the interior.
Powered by an economical yet powerful S-Tec engine the four-cylinder 1.0-litre petrol engine on the Spark delivers peak power of 63 PS @ 5,400 rpm and peak torque of 90.3 Nm @ 4,200 rpm.
The engine includes many new-age innovations such as Sequential MPFI, a Dual Distributor-Less Ignition System (DDLI), a Motorized Throttle Intake System (MTIS) and an Advanced Optical Sensor. This ensures smooth, noiseless, efficient, powerful, reliable and low-maintenance operation.
The all-new Spark LPG variants come with a sequential injection-type LPG kit. It offers several advantages, including no engine backfiring while changing to LPG mode or back to petrol for a smoother ride, good fuel economy, low running cost, better power and pick-up, and lower emissions compared to the competition. The factory-fitted LPG kit is certified by ARAI and DOE. It comes with the standard company warranty of three years/100,000 km along with Chevrolet Promise.
Speaking on the occasion, Mr. Lowell Paddock, President & Managing Director, GM India, said "The all-new Spark will build on the success of its predecessors and stand out against the competition in India's rapidly growing small car market. The introduction of the all-new Spark reinforces GM's commitment to continually roll out new and upgraded products that exceed the expectations of car buyers nationwide," Mr. Paddock added
Available in a total of five variants the face-lifted Chevrolet Spark will be available in six vibrant colours; Velvet Red, Caviar Black, Linen Beige, Sandrift Grey, Summit White and Misty Lake.
All-New Chevrolet Spark Variant-wise pricing
All-New Chevrolet Spark Base: Rs 3,26,365
All-New Chevrolet Spark LS: Rs 3,52,565
All-New Chevrolet Spark LT: Rs 3,81,365
All-New Chevrolet Spark LS – LPG: Rs 3,81,665
All-New Chevrolet Spark LT – LPG: Rs 4,10,465
(All prices ex-Showroom Delhi)
Slideshow: