Eicher Polaris Multix personal utility vehicle launched in India at Rs 2.32 lakh
Jun 18, 2015
Views : 103087
---
The Eicher Polaris Multix is a first of its kind personal utility vehicle that comes with a small 511cc diesel engine that makes 10Ps of peak power and has comfortable seating for five adults. While the base level AX+ is priced at Rs 2.32 lakh, the MX is priced at 2.72 lakh (ex-showroom, Jaipur).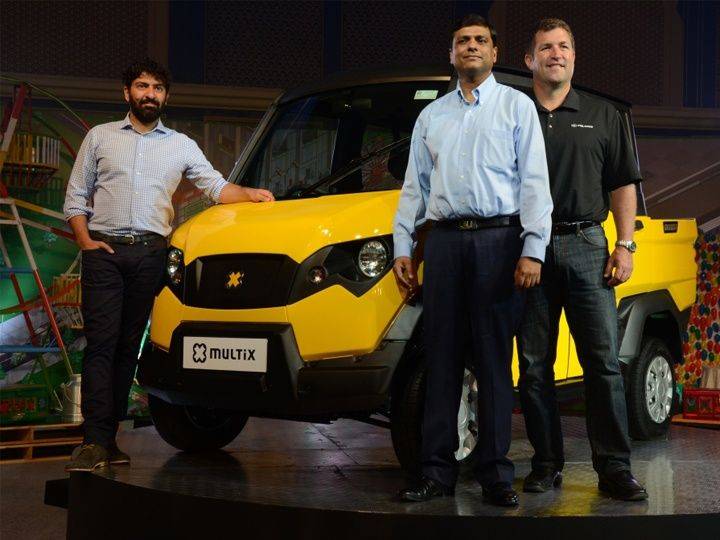 Eicher Polaris has just launched its first private vehicle, the Multix in India at an affordable and practicle Rs 2.32 lakh (ex-showroom, Jaipur). The Multix is essentially Eicher Polaris India's first effort to break into the highly lucrative entry-level personal mobility segment that is dominated by the Maruti Suzuki Alto 800. That said, the kind of target audience which the Multix will attract will be completely different from the regular Alto of Tata Nano customer. Essentially, the Multix is targeted more towards the rural and semi urban user.
The Eicher Polaris Multix is powered by a single cylinder, direct injection, diesel engine that adheres only to Bharat Stage three norms, which means it will not be sold in most major metros. The engine makes 10PS of peak power at 300rpm and 27Nm of peak torque between 1400-2200rpm. The engine is mated to a four speed manual constant mesh gearbox. The Multix gets McPherson Strut suspension in the front and double wishbone suspension at the rear with drum brakes all around. The Multix can also be equipped with an onboard generator which can help power the electricity of a household or be used on the field to power tools.
Speaking at the occasion, Siddhartha Lal, Managing Director & CEO, Eicher Motors Ltd., said, "We have identified a large untapped segment in Independent Businessmen with an estimated population of 5.8 crores in India, and are committed to create a new and strongly differentiated automotive solution for them through Multix. Our aim is to equip the consumers with the Multix ecosystem and enable them to unlock their potential by accessing a world of new opportunities. We have made an investment of Rs. 350 crore till date."
The Eicher Polaris Multix will be available in two variants, the base AX+ and the MX. The AX+ will have an open rear loading bay with 418 litres of load space whereas the MX gets an optional cover which can increase the boot space to a shopping 840 litres. The Multix AX+ will also not get any doors and will get a bare tubular frame chassis whereas the MX does get doors and a set of roll down windows making it more suitable for private use. We think the Multix might be key to revolutionizing rural and semi-urban transport solutions where a tough and no-nonsense vehicle is key. While the base level AX+ is priced at Rs 2.32 lakh, the MX is priced at 2.72 lakh (ex-showroom, Jaipur).