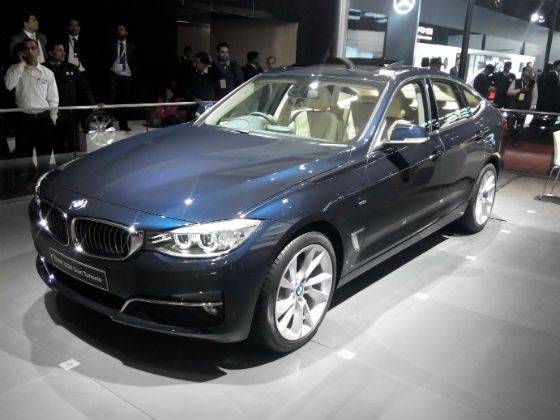 BMW fans had a field day at the 2014 Auto Expo as it launched the 3 Series Gran Turismo (GT). Apart from launching the 3 Series GT, it also unveiled the i8 electric sports car, X5 SUV and the M6 Gran Coupe performance sedan for the first time in our country. The 3 Series GT has been priced at Rs 42.75 lakh (ex-showroom Delhi) and bookings for the car will commence in the next few days. The new offering according to BMW is a unique combination of a sporty and elegant coupe, and is a segment it pioneered with the erstwhile 5 Series GT.
Owing to a coupe design style, interior space has improved and the car sits in between the standard 3 Series and the 5 Series in terms of interior space and pricing. The car provides a 520-litre luggage compartment but with a 40/20240-split rear backrest with folding headrest, it swells to 1,600 litres. The 3 GT is also equipped with an active rear spoiler, which is automatically deployed at speeds above 110km/h and retracts at speed below 70km/h. Powering the car is a two-litre, four-cylinder diesel heart producing 187PS of power and 380Nm of torque.
BMW also unveiled the all-new X5, luxury SUV, which will be on sale by end of the year and will be assembled in our country. It also utilised the show to showcase its M6, Gran Coupe for the first time in the country, which is among the fastest four-door coupe in the world. But the best was kept for the last as the i8; hybrid sports car was unveiled by the master blaster himself, Sachin Tendulkar, and the crowd assembled were struck both by the charismatic ex-cricketer and the awe-inspiring design and presence of the car. Mini, which is under the BMW group, unveiled its sub-brand, John Cooper Works range of accessories at the Auto Expo. As part of this accessory package, one can avail special exterior accents, interior features and aerodynamic package. The accessories will be retrofitted at Mini dealership and it wouldn't void the warranty of the car in any manner.