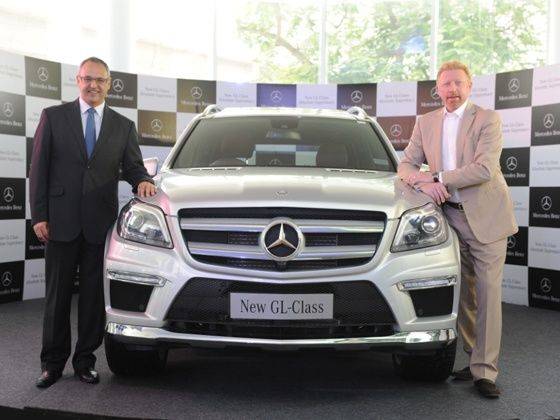 It probably was a nice blend of sheer power and sophistication to begin with. However over the years the GL Class of models from Mercedes-Benz has matured in both departments only to return in 2013 looking all the more imposing and a lot more luxurious to say the least.
Gracing the launch of the new generation all-terrain monstrosity from Mercedes-Benz was our beloved Tennis star Boris Becker, who took the wraps of the exclusive launch edition of the new GL Class, only 100 units of which are on offer to interested buyers.
Not only has Mercedes-Benz managed to increase the output and torque by up to 22% over the previous model, but also reduce the fuel consumption and CO2 emissions on the new GL 350 CDI 4MATIC by 15% as compared to before. Thanks to its third-generation technology, the 3.0 litre V6 diesel engine on the new GL 350 CDI BlueEfficiency 4MATIC produces 258PS and 620Nm of torque. The standard-specification ECO start/stop function automatically ensures that the engine is temporarily switched off when the vehicle is standing at traffic lights or in a jam.
The new GL-Class besides being more powerful and efficient also packs in a heap of newer driver assist and safety technologies like Crosswind Assist, Trailer Stability Assist and Downhill Speed Regulation (DSR) systems among others to bring out the best in vehicle even under harsh driving conditions.
Now available at Mercedes-Benz dealerships pan India, the new generation GL 350 CDI Launch Edition will cost you a hefty Rs 77.5 lakh (ex-showroom Delhi). But it certainly looks worth the price tag. Question is whether it fits your bill; literally or any other way you imagine.