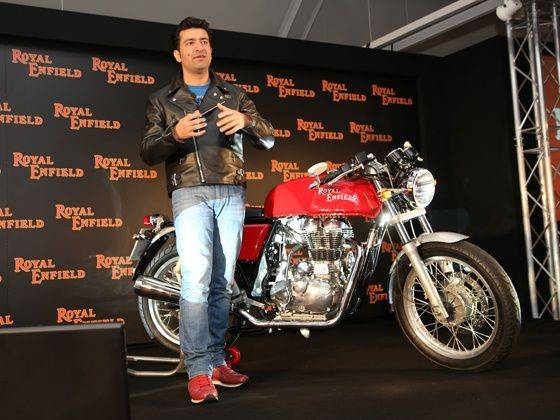 Adil Jal Darukhanawala: Three years to the time when you first displayed a cobbled-up concept of a cafe racer at Auto Expo 2010 and even then you got zapped by the response. What took you so long in coming that too with a fast bike; I don't mean three years but the first all new Royal Enfield in over 60 years?
Siddhartha Lal: Yes it is relatively a fast bike and is based on our existing engine platform but other than that everything is new from the ground up. We wanted to make it a really well handling as well as a solid bike to that extent so we did a lot of work on the engineering. We got Harris Performance who has been doing chassis for Grand Prix bikes for 50 years now but he is the ultimate authority for Café Racers as well. So we went to him and worked with him very closely to get this really good handling bike out.
AJD: You don't seem to have done anything by half here and I think that shows very crystal clear because motorcycling is all about tactile surfaces, different materials and by and large I have always maintained one thing that if a bike looks good or a product looks good it also invariably is good. I think it stands true for this bike of yours, I think you got it bang on first time out.
SL: Well thanks Adil, I think it is a huge compliment and of course it's been people like you who have been supporting us and believed in us even sometimes when it was difficult. We have absolutely spared no expense when we have conceived this product. Royal Enfield doesn't come out with a new product every now and then as you know already.
So when we do that we make sure that we do it properly and every single point of development of this motorcycle we made sure that we put in whatever it takes to come out with a perfect motorcycle whether it was working closely with Harris but it wasn't just about Harris. It was the fact that we took years of engineering in the ride and handling, we went to tracks and roads around the world to make sure that it really works very well.
ROYAL ENFIELD CONTINENTAL GT FIRST RIDE

AJD: That's in your DNA now, as I see it just the very fact that you did a consumer centric idea like doing the rides in India, then trying to get to doing rides to validate dynamic ability and I think that's paid off on this bike.
SL: Yes, absolutely and then we made sure that every single part on this motorcycle has been thought through in great detail, very meticulously. We have got all the bits and pieces because it is a higher performance bike from our stable so we have gone across the world to source the correct bits. We have got a lot of stuff from Japan for example, our fuel injection system, our electrical start system, a lot of the engine work has come in from Japan, we have gone to Italy for a lot of nice bits, we have got really good Brembo brakes which you know are on top of their game. We have got the Paioli gas charged suspension for the rear; we have got Pirelli Sports Demon tyres which are so very vital to the performance and safety aspect, I could go on.
AJD: I like this good measure you have got about componentry, really making its mark to contribute to the whole. It's not a sum of its parts alone you know it's more than that.
SL: And therefore even though we have used the best components it's not about the components its about how they all perform in working as a whole and that's why we have taken this time and made sure that we have put in the effort. We also wanted this motorcycle to come out of our new plant, so there was no question that it was going to come out anytime before that. We wanted to ensure that it has got the best paint finish in the world.
We wanted to make sure that the type of input we have put into the frame had to be micron perfect. It is the skeleton, the basis of this product and if you are wrong on that you are going to get everything wrong, all your fitments wrong and you going to get your ride and handling wrong and then there is no bike left. We do things in our own way but then eventually we believe that we have come out with something that's fun.
ROYAL ENFIELD CONTINENTAL GT FIRST RIDE
AJD: Tell me one thing, you have done a wonderful job here if I may say so, but do think - not as Siddharth Lal the big name and the big suit from Royal Enfield but if you had to think as Siddharth Lal the rider, do you think you would have wanted something a little bit more than this on this bike. I am not going on into multi cylinder mega machine or such but I am talking about the bike you know.
SL: Yes you can say that, when we were riding yesterday, you were riding right next to me, you saw that on the motorway when we were going down towards Brighton, I had my head all the way down, belly on the tank and we were going downhill and I was up to almost 90 miles an hour, but then of course you know the ton is the ultimate. We want to do a ton on this, so in this avatar as it is today you know it's not going to push a ton but we are aiming for it.
AJD: But actually speaking do you think that whatever you have done so far is about doing it or deriving the enjoyment coming towards the ton.
SL: There you have nailed it, it's the challenge as well. So we have taken this bike as a starting point, it's a platform, a canvas, for people to actually work more on it and we want to make the sort of bikes that are engaging, that call out to you, they want to talk to you, you want to work on them and they are very mechanical and they are very simple in that manner so that you can go round that way, you can actually work the bits and bobs. Its tactile, it's fun, so once you have Continental GT platform and if you are a tinkerer you are going to take it, make it lighter, add a few more parts, make it high performance and you are going to try and hit a ton, and that's the fun thing.
It's not coming to you on a platter and you have to extract that by working at it. If you get a 180 horsepower bike the bike is always overpowering and it's the person who is always going to be the limiting factor. On this bike in different circumstances it's the bike that is the limiting factor, in some circumstances it's the person, in some situations it's the terrain, so there is an equal balance of all three rather than one of them taking over the show.
ROYAL ENFIELD CONTINENTAL GT FIRST RIDE
AJD: I have been to many launches all over the world, cars, bikes, trucks as well; hope to come to the Questor launch sometime soon as well, but very importantly I have never seen a launch as funky as this where you married history with the present, you married the youth with motorcycling culture of a long time ago, which was awesome to behold. I think there must be a lesson in it for Triumph and Harley-Davidson to evaluate.
SL: Well thank you, that's high praise and like I said we don't think we do these kind of things very often and when we do it once in a decade and this time once in 50 years, we said we are going to do this well. We going to call people from around the world who are motorcyclists, journalists, enthusiasts, so we got people from all around the world, from Japan, Australia, Europe, India, US, Canada. And we said it's not just about the bike, it's about all the one needs to soak in, and so we had cultural tours, the whole rocker concept. We also had to rekindle the idea behind the café racing culture, and the rockers sub-culture of the 1960s; it was a time when post-war there was enormous optimism with a can-do spirit and a can go-anywhere attitude and in that process you could become anything you felt like - that is the kind of optimism that we are trying to bring back with this motorcycle.
AJD: Good thing that you spoke about optimism, I think that optimism also requires an ingredient known as youth and I see the people whom you have got with you, I have not seen many Indian companies, in fact in the Indian two-wheeler field I have seen just Bajaj Auto and you empowering the youth and I see you have empowered them a lot.
SL: Yea, you do need a few grey hairs here and there in some areas to keep us in check and guide us correctly. Men like Steve Harris, he has got a lot of grey hairs but you are right the whole concept is we want to have people who really get it. Who get the whole culture, which in turn gets the people we are selling to, who get motorcycles and that's what makes our company. Yes we have a lot of youngsters on our team, everyone here is relatively young but we also have a share of people who bring in the historical context, who bring in the experience required to make something like this happen.
ROYAL ENFIELD CONTINENTAL GT FIRST RIDE
AJD: My last question, and it's got nothing to do with the pricing, I know you will do it right for India, but where do we move on from here? Because you have gone back into history to resurrect a very historic name from Royal Enfield, when do you go about resurrecting a 500 twin or a 750 twin, because you spoke also about the market share for bikes in the world in the 250cc-750cc segment being 8,00,000 units per year. You are presently only at 1,60,000 or 1,80,000, I think you can definitely accelerate yourself away to twice that figure.
SL: Yea, thanks Adil, but conceptually of course anything that is within our brand filter we are game for. We don't want to do supersport nor we don't want to do big cruisers, we don't want to do ungainly bikes, because that's not our DNA. We don't want to do simple commuters either, that's also out. It boils down to a certain style of mid-size motorcycling which we believe that the world will converge onto, and within that whatever it takes, I mean number of cylinders is immaterial, what's important for us and that we have learnt from a lot of friends we have, from Bajaj as well, any platform that you are committing to, you have to be able to support that platform in the long term, you have to be convinced that you are going to have a critical mass in a particular platform, you have to have the requisite numbers, whatever it means, for our current single platform it means a few hundred thousand numbers and we are there now, this is a platform that is there for us in the future, we can invest in it, we can develop it, we can even change it entirely a couple of years from now, because we can keep putting in money behind this platform.
So any new platform that we enter will also be done from a business perspective, that it is a platform we are able to invest not just in terms of modernisation but we will have to meet the Euro IV norms, we will meet sound norms, we will have to meet global emission norms. So there is a lot of stuff that goes around that and if we believe that there is a new platform that we can enter into which can be sustainable from our side for a long term, we will get into it as long as it meets our brand filters, as long as it's a mid-sized bike, we are going to do it.
AJD: Since you have the first more advantage over there, and your historic rivals Harley Davidson and Triumph are trying to move into this turf, I think you can lead the field very well provided you stay true to what you set out to be.
SL: Yea in India in particular, we have done it the hard way, we have really understood the market we have understood what makes people want this kind of a motorcycle and we have made a motorcycle that is on one hand extremely enjoyable. It's something that you want to have, but on the other hand it is extreme yet very practical, you can ride it easily, you can service it easily…
ROYAL ENFIELD CONTINENTAL GT FIRST RIDE
AJD: Is it the two-wheeler equivalent of the Apple iphone without the complexity, because you don't need it but you want it…
SL: Yea, hopefully. That's pretty much it, but in this case you also need it to express, in order to get away from the world like we talked about of everything that being virtual, just screen, screens, screens. We want to give something that is a real tactile experience, it's something which you can use and arouse all your senses.
AJD: You mean all the bells and whistles sounding as bells and whistles and not polyphonic tunes?
SL: Absolutely! And to be able to focus on the essential parts of it and not the excess, so we focus on the essentials, get it done well, and we think we got a big future ahead of us.
AJD: Sid, best of luck, you have got a wonderful product, wonderful guys, wonderful company, long may you continue in that vein.
ROYAL ENFIELD CONTINENTAL GT FIRST RIDE