World EV Day 2020: How The LiveWire Blew My Senses Away
---
We knew electrics can be fun but the LiveWire is properly bonkers!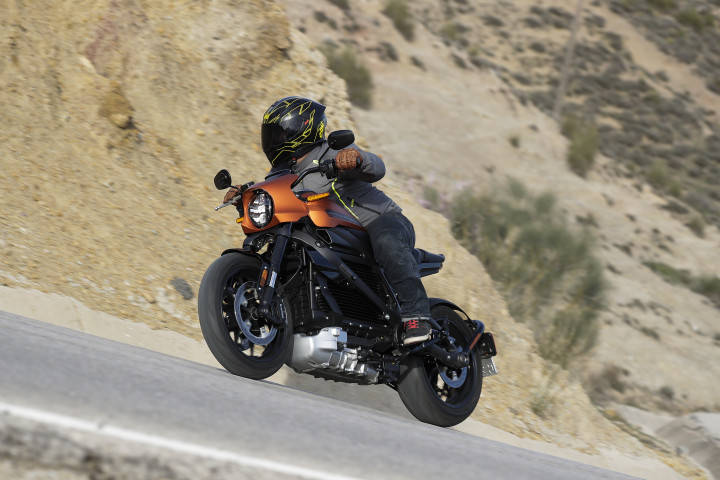 Hearing a rumbling V-twin motor at a decent clip for two days on a stretch sounds like the stuff Harley-Davidson rides are made of. But little did I know that a wailing banshee would leave me mesmerised. I got nothing but expletives fluttering out of my mouth as I straddle up for the fast paced action. I have literally never gone from standstill to 100kmph that quickly in my life in an automobile, let alone on a Harley-Davidson. That's my first encounter with the LiveWire, the most un-Harley Harley there is.
Harley Davidson LiveWire Video Review
Harley-Davidson's most ambitious project ever culminated a year ago with the production-ready LiveWire literally blowing the roof off in every single department. The company then embarked on the "More Roads To Harley-Davidson" with the LiveWire being the crown jewel in H-D's tiara. And why shouldn't it be? After all, Harley had defied expectation and was, and still is, one of the handful of established bikemakers to wade into the pool of electric start-ups. The mission was not to make the fastest or the best handling bike ever, it was perhaps to give us a glimpse of the Harley-Davidson of the future.
Closer to home, the most performance oriented electric two-wheeler that we had ridden then was the Ather 450X. Its predecessor, the 450, gave us our first proper taste of performance electrics and the 450X's Warp mode is, dare I say, ludicrous. However, the Ather 450X is still a scooter; top speed restricted to 80kmph. When you reach 80kmph in 10 seconds, it is comprehensible.

When you take one-fifth the time, you can soil your pants. Oh my god. You can literally picture your surroundings turning into a blur as if you are aboard the Millennium Falcon at light speed. The hills of Malaga had four Indian journos and one Harley exec blasting past with nothing heard but just the screech of the tyres and the motor's wails.
The sound is intoxicating. Yes, it has a sound. Don't believe what the haters say. Harley engineers have tuned the motor's acoustics to deliver a whirlwind sound. They haven't cheapened out and given a speaker with faux exhaust notes that replicate an internal combustion engine. It is a new symphony, one that we will have to get used to.

The Revelation motor is just as it says, a revelation. The motor is placed at the bottom with the humungous liquid-cooled (yes, liquid-cooled despite what the fins have you believe) battery directly above it. A unique exposed twin-spar frame packages it all firmly in one piece. There's no clutch lever. There's no gearbox. In the first few minutes of just getting out of the city limits, my brain is desperately trying to figure out where the clutch lever and gear shifters are. Even when there isn't, psychologically, my left leg was shifting up the imaginary cogs.
It isn't one dimensional either. The beauty of electric vehicles is that they are quite versatile in comparison to their internal combustion counterparts. The same bike that was howling down an open straight road at over 150kmph can so easily turn sedate and comfy doing 40kmph is unbelievable. There's no shuddering or bogging down in an electric as you can calmly bring the LiveWire to a halt at a traffic light, much like you would on a scooter or a Honda Africa Twin with the DCT gearbox. Like the parallel-twin engine hums to let you know that the engine is still active, there are small haptic pulses on the LiveWire that remind you the proverbial ignition is still on.

You can control how you would like your LiveWire to behave on any given ride by just touching the right icons on the LCD touchscreen panel. It is quite interactive and legible. The usual smattering of electronic rider aids is present and since our ride duration was going to be brief at the best, it was only befitting that I left most settings in one below crazy.
But I was constantly fiddling around with the regen settings. Controlling its intervention is as easy as swiping left or right. At the highest setting, the regen would be so active that you might not need to have the brakes to slow down from modest speeds. With intervention at its least, it does freewheel a bit with just a slight hint of retardation, definitely necessitating you go on the brakes, which do not disappoint at all. But that was never going to be a doubt, was it? The LiveWire sources braking hardware from Brembo, the experts at two-wheeler brakes.

You do end up feeling the weight a bit, especially when you want to tip it into a corner. You might say that it is a Harley trait but this one is quite different. The traditional Harleys have raked out fronts and long wheelbases. This one is sharp and short. But at 251kg kerb, it ain't no featherweight. The bulk of the weight is due to the batteries. Considering that the battery tech is getting better by the day with higher density cells being developed, it won't be a surprise that the next-gen LiveWire will be lighter.
While most bits feel so outworldly, the core bits that make it a motorcycle are still present. The USD fork is fully-adjustable and so is the monoshock, both made by Showa. The tyres are specially developed Michelin Scorchers. But my time was short and the slightly damp roads, from a light shower just before our ride, meant we were a bit more cautious than usual. And hence, couldn't really speak much about these bits.

Ultimately, its elite pricing and limited range stop the LiveWire from being the performance electric naked that Indian enthusiasts might not hesitate to switch over on to. With an estimated Rs 50 lakh price tag after taxes and duties for the LiveWire, it was bound not to have many buyers and Harley India wisely decided to only hold a showcase tour across the country. Those who got to witness it and try their hand on the rolling road setup would definitely be impressed. I for one am in awe. Not of the LiveWire but of Harley-Davidson's electric division. If the LiveWire is going to be the halo product, I cannot help but think how the more reasonably priced but toned down electric bikes from Milwaukee will be.
But alas, will we see them soon or at all? What does new H-D CEO Jochen Zeitz's Hardwire plan mean for the future of the LiveWire and other proposed electric bikes, only time will tell.
Add Your Comments