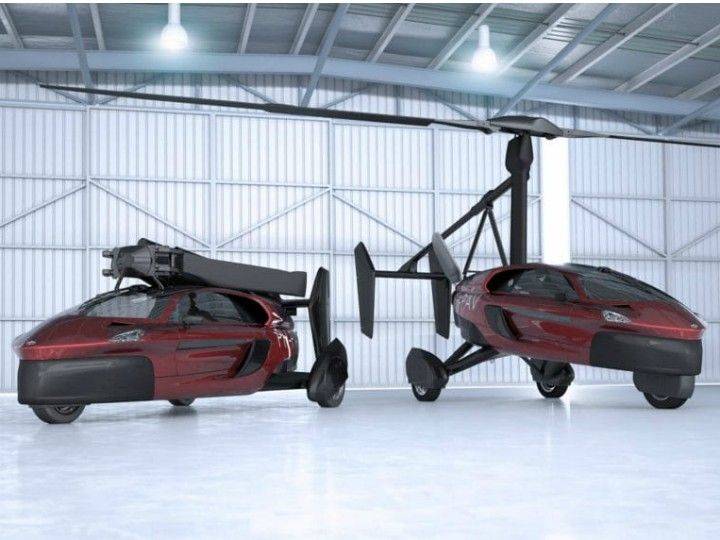 Netherlands' PAL-V International has launched the world's first flying car called the Liberty Sport for a price of US $ 400,000 (~Rs 2.68 crore). The car, if you can call it that, blends an aeroplane, helicopter and a three-wheeled motorcycle into one and looks like it belongs to the other world.
It moves like a car with its wings folded but leans like a bike when going hard around a corner. For takeoff, the wings stretch out, and a propeller at the back pushes it forward. Meanwhile, the rotor on the top gets up to speed for lift off. Interestingly, despite looking like a helicopter, it requires a runway for taking off and landing.
Taking off requires 330m of a clear patch with 50kmph on the speedo while landing needs only 30m of tarmac. It can accommodate two passengers and weighs just 664kgs. The maximum take-off weight is rated at 910kg inclusive of passengers and 100 litres of fuel. The Liberty drinks premium only and can run on 95 octane or higher in addition to a 10 per cent ethanol blend (E10).
The maximum operating altitude is 3500m. The best fuel efficiency of 5.4kmpl can be achieved if flown at a constant 140kmph but it can go as fast as 180kmph. While flying, the engine makes 200PS of power, but once you hit the ground and start driving it like a car, the maximum power drops down to 100PS. It returns a fuel efficiency of 13.1kmpl while strolling on planet Earth.
The car uses modern electronics and gyroscopes just like the remote-controlled drones, which help the pilot stabilise during flight. This makes it easy for virtually anyone to fly the car. But just a driving license won't cut it, and you'll also need a flying license to get it up in the air.
To make it a reality, the company has had to comply not only with the road transport offices but also with aviation authorities. While you could buy a plane and a fast car for that kind of money, you'll always have to choose between the two. The Liberty does it all.
PAL-V is looking at North America as its biggest market and accepting bookings with a tentative delivery date of December 2018.