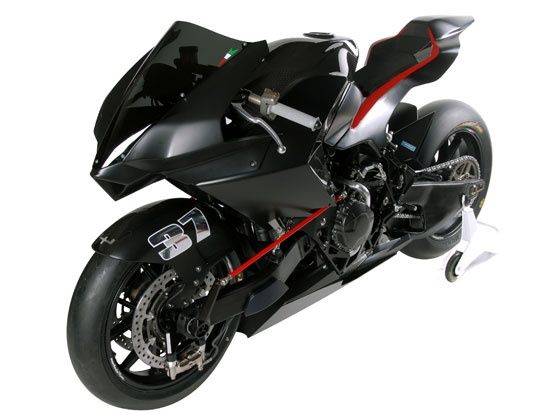 While most of us MotoGP fans lament the loss of the 250cc 2-stroke class from World Championship Motorcycle racing, one can't help but see the advantages of Moto 2, the class that replaced it, has brought along to the sport. With the 600cc 4-cylinder 4-stroke regulation engine coming as a kit from Honda, all the teams have to do is develop their own chassis, reducing the cost of running a Moto2 team, and thereby significantly increasing the number of teams which can participate – the 2010 season had over 40 bikes on the grid.
This is where Vyrus comes in. The little exclusivist Italian sportbike maker has been making some rather unique motorcycles, which combine the powertrain from Ducati with the company's own hub-centered steering chassis, for the last few years now. And with the introduction of the company's latest creation, the 986 M2, a plan to storm the cutthroat world of the MotoGP, or Moto 2 to be exact, has fallen into place. The 986 M2 sports a 600cc inline-4 engine from a Honda CBR600RR which is cradled in a frame milled from aerospace-grade aluminium. Bodywork is limited to a bellypan, a very simple pointy nosecone and a single unit that functions both as tank and lower fairing. The seat unit seems almost to bolt into thin air, although it's really attached to the top of the crankcase of the homologation 600RR motor.
The hub-center steering is actuated through Vyrus's own VSS system, which takes the handlebar input and transmits it to the front wheel through a double-action hydraulic ram that runs under the length of the front swingarm. And all this complicated system of making the bike, including the front swing arm and hub-centered suspension and steering system, results in tremendous weight savings. The Vyrus Moto2 bike tips the scales right on 135kg, the mandated minimum weight for a Moto2 racer. In fact, if anything, the weight is kept lower in the frame and closer to the central engine mass than on a forked bike with its heavily reinforced headstock area.
Vyrus has clearly stated its "intent of racing in the Moto2 category" - but the 986 M2 will likely start its racing career in lower-level national and international race series. No announcement has been made yet on when we'll see the Vyrus in the GP paddock. Perhaps the most intriguing news of all, though, is that the company hopes to launch the road version of the 986 M2 by September of 2011 for a relatively attractive25,000 Euro (Rs. 15.42 lakh) price. But we certainly hope to see this radical machine fighting it out with the best on some of the most premier motorcycle racing circuits in the world.