The Vyrus Alyen Is A Motorcycle Straight From Another Planet
Apr 6, 2020
Views : 10244
---
It gets a 205PS Ducati motor and hub-centre steering
Vyrus is a small company that specialises in hand-built hyper exotic motorcycles.
The Alyen hyper-naked gets a magnesium frame, carbon fibre bodywork and wheels.
It gets a 1285cc Ducati Superquadro L-twin motor.
Expect it to be made in very limited numbers and carry a stratospheric price tag.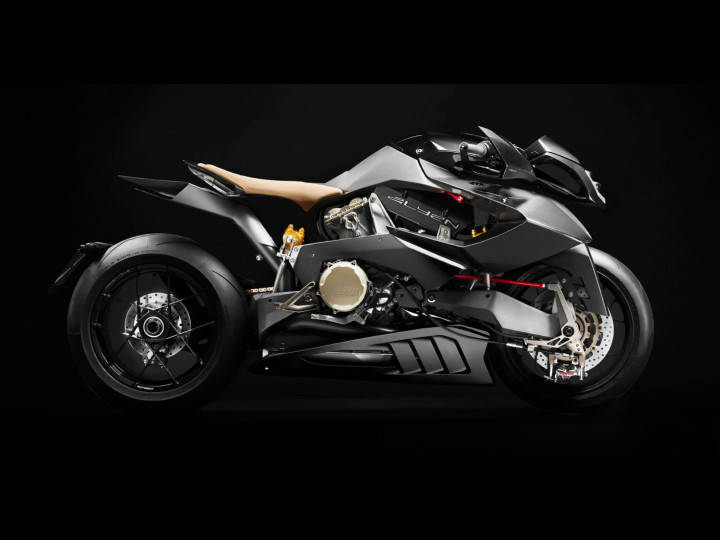 No motorcycle has ever had a name as fitting as the Vyrus Alyen. It looks like a motorcycle from another planet, like something the Predator could use in his interstellar hunting expeditions. This work of art comes from Italian hyper hyper exotic bike maker Vyrus. The extra 'hyper' is for their penchant of taking hyper exotic motorcycles and then dialling the exotic all the way to nine. A good example is the Vyrus C3 series, an exotic version of the hyper exotic Bimota Tesi 2D. Back to the Vyrus Alyen then.
Also read: This Electric Royal Enfield Costs As Much As A Harley-Davidson LiveWire

The Alyen uses a similar hub-centre steering setup as the Bimota Tesi 2D and uses expensive materials like carbon fibre for the bodywork and wheels. Even the double omega frame is made of magnesium. The wheels are forged carbon units from a firm called Rotobox. While these help in keeping the weight featherlight, they add a rawness to the overall aesthetics. We absolutely love the handguard design and the way the twin exhausts look like sharp winglets.
Also read: Motorcycle Innovation invents a new suspension system

Power comes from a 1285cc Superquadro L-twin motor that was last seen on the Ducati 1299 Panigale. This unit makes 205PS, which is enough to take you back into orbit. However, with its tiny 11-litre fuel tank, it probably will not take you too far. It gets a unique pushrod suspension setup and exotic Brembo GP4 brakes.
Also read: Motorcycle Hub Steering vs Conventional Steering Differences Explained

Vyrus has not revealed how many units of the Alyen will be available to billionaires and oligarchs. You have to put in a request to know the price too. Rest assured, it will be stratospheric.
Add Your Comments