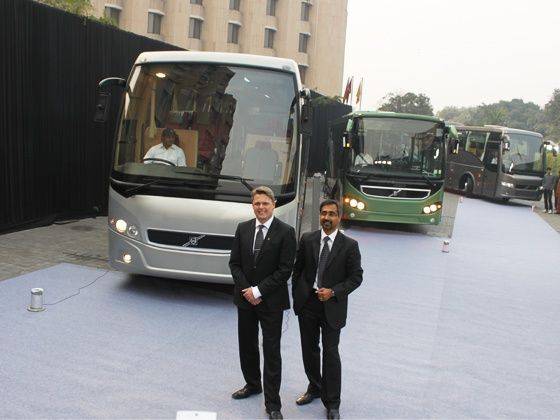 Volvo buses recently showcased new public mobility solutions, comprising city buses and new coaches. The new products will have first time features for passengers encouraging for a better and safer mode of transportation by raising the bar of Safety by introducing Front Under-run Protection (FUP) and Frontal Impact Protection (FIP) system across all its coaches. Akash Passey, Managing Director & CEO, Volvo Buses, South Asia, said, "Today in one single step we are bringing in products equal to that what we did in the last decade. We now have local competence and experience to raise the momentum of change manifold. This is just as we expand our market access and raise standards and expectations. We are on our way to reaching our vision of a 1 billion dollar company."
The new models, Volvo 9400PX, 7400 XL, 9100 and the 7700 Hybrid that would be on display at the 2012 Delhi Auto Expo are Volvo's plans to make India the global hub for selected models. As a part of the strategy, Volvo will also sell 5000 units per year in India while making Volvo the biggest market along with China in terms of public transport by 2015.
Hakan Karlsson, President, Volvo Bus Corporation said, "About three months ago we promised that we will play a bigger role in the progress of the Indian bus industry and announced an investment of Rs. 400 crore. Today, we stand with a product range that will take us there. Our focus remains to drive quality of life and with our current range we will be spreading the Volvo experience to a larger market in the country. "
The Volvo 9400PX is the country's first 14.5 metre long luxury coach with the highest seating capacity compared to other luxury coaches, offering a steered axle for better manoeuvrability while also offering more luggage space, a Pantry and a Lavatory on the bus. Also on offer, is India's first multi-axle city bus., the 7400XL offering 55% more occupancy while reducing fuel consumption and emissions by 30%. This will be the first multi-axle bus with a steered axle being offered for city public transport.
For medium haulage, the 9100, that comes in with a lower initial cost, while offering Volvo's core values of Safety, Quality and Environment consciousness. The Volvo 7700 Hybrid, that will be on display at the Auto Expo, is a commercially-produced hybrid bus model that saves upto 37% fuel while reducing emissions by 40% - 50%.
Within six months of the company's launch in 2001, Volvo buses rolled out its 100th bus, clearly underlining the demand for such products in India. The company forayed into newer markets in all regions in a phased manner, starting with South, followed by West, North and East. By 2005, Volvo introduced its low-floor air conditioned city bus in Bangalore with the city's transport corporation introducing more buses on the airport route after sometime. By 2008, Volvo Buses established an independent company – Volvo Buses India Pvt. Ltd. inaugurating its complete bus factory near Bangalore, making it the first company offering a complete bus under one roof. Volvo aims to export 20% - 25% of its volumes not only in South Asia, but to more markets, in future.