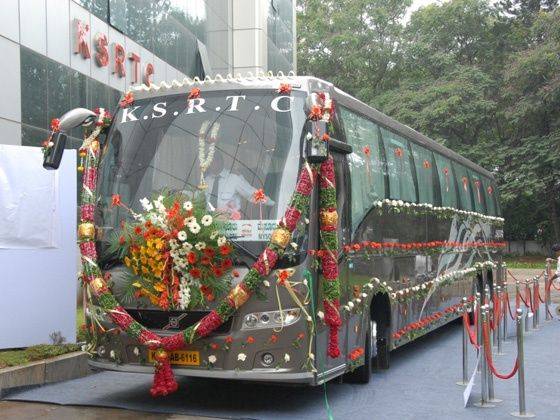 Volvo was indeed one of many recognized CV makers parading their presence at the AutoExpo 2012. However, while many simply cashed in on the sheer mammoth presence of their offerings to attract public attention, Volvo resorted to more princely approach at the event starting with the unveiling of the world's first commercially viable hybrid bus – the Volvo 7700 Hybrid followed by the official launch of an entirely new range of multi-axle buses for the Indian masses.
Among those present was the Volvo 9400PX coach, which post its handsome debut at the AutoExpo more than 7 months ago has now finally hit the roads in Bangalore and is being solely operated by the Karnataka State Road Transport Corporation (KSRTC) as a part of the CV maker's ongoing intercity trial run programme.
The new Volvo 9400PX is incidentally the first and the longest multi-axle intercity coach in the country at 14.5m, but owing to its unique steerable rear tag-axle it offers almost the same manoeuvrability as a typical coach. The Volvo 9400PX is built on the new light-weight Volvo PX platform, which provides even better grade ability and acceleration as well as enhanced stability & larger luggage space. The new coach also offers a much higher performance with the new Volvo 11-litre engine that offers 370hp.
Present at handover of the new Volvo intercity coach to KSRTC was Akash Passey, Senior Vice President – Business Region International, Volvo Bus Corporation and Chairman of the Board, Volvo Buses, India who said, "The Volvo 9400PX is an important milestone for Volvo Buses in India. Next, it is a continued sign of our local product development capabilities, where the Volvo 9400PX has witnessed a very close collaboration between our engineers in Sweden & India together.
The Volvo 9400PX intercity coach is built at the state-of-the-art manufacturing plant of Volvo Buses in Hoskote near Bangalore; it now joins the successful 9400 range of coaches operating successfully in India.