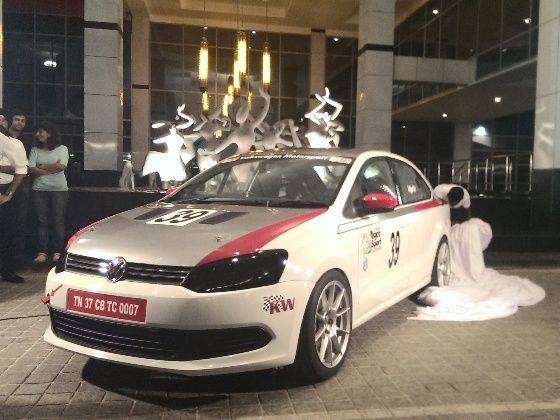 Volkswagen Motorsport in collaboration with Tiger Sports have introduced a Vento-based track car which is set to race in the super saloon category of the Indian Touring Car Championship organised by JK Tyres. The car was unveiled on the sidelines of the recently held JK Tyre Racing weekend in Coimbatore, Tamil Nadu, and is expected to make its track debut in August at the Madras Motor race track.

The Vento has been modified according to the standards laid down by the FIA and boasts a 1.6-litre modified twin overhead cam, normally aspirated engine with a remapped ECU and data logger that churns out 180 horse power as compared to the stock 106 horsepower that the Vento makes. Mated to a 6-speed close ratio manual gearbox, the car is expected to be quite the scorcher on the track. Also Read: Maruti Suzuki Monster Modification


Other modifications include changes to the suspension and chassis which have been carried out by former racing driver Sanjay Balu. Incidentally, the suspension system opted for on the Vento racer come from KW Suspensions, a company which is known for supplying such suspension systems for the World Touring Car Championship. The fenders, bonnet, boot and doors have been fabricated out of advanced aerospace grade fibre composite panels in a bid to reduce the overall weight of the car and hence directly impact its performance. According to the officials present at the unveiling of the car, the race-modified Vento weighs a striking 220 kilograms less than the stock version, bringing the overall weight of the racer to just 900 kgs. In order to deal with the enhanced performance, the brakes have also been up rated including modifying the rear wheels to feature disc brakes.

The race-bred Vento will be piloted by Arjun Balu, who was last year's touring car champion in which he competed in a modified Honda City. The advent of this particular Vento on the race track will mark a new chapter in Volkswagen Motorsport's innings in India. No doubt the car sounds like it has a lot of potential on paper and now all that remains is to see how it does in a crowd.