Volkswagen presents New Passat to Paul Valthaty
---
Apart from being the title sponsor in Indian Premiere League Season 4, the German company has recently presented Kings XI Punjab opener Paul Valthaty with its newly launched Passat for the Best Performer this season.
Considering the way players fired in the IPL 4, it was obvious that there were going to be a lot of contenders for the Best Player of the Tournament. Chris Gayle and Shaun Marsh headed the list of maximum run getters, while Lasith Malinga and Amit Mishra lead the list of top wicket takers. These players competed well for the title but it was a Kings XI Punjab opener who took the prize. The all-rounder Paul Valthaty scored more than 450 runs and gave a 360 degree performance to take home the all new Passat.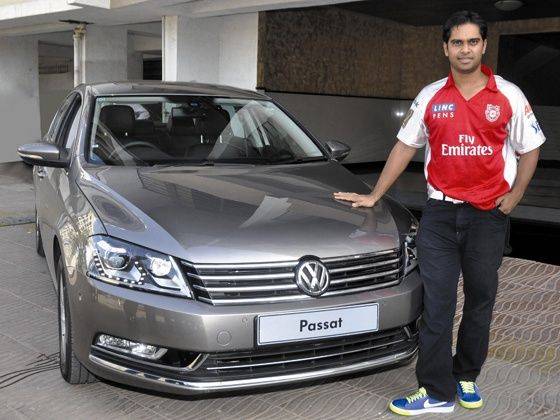 Best Player of IPL 4 - Paul Valthaty with his VW Passat
Volkswagen went all out with its new Passat at the IPL. Being the title sponsor of IPL 4 the company launched the sixth generation of the car alongside the T20 series. VW's association with cricket was a very strong move by the German car manufacturer as it is a sport which is most watched in this country. Leaving aside the publicity the company and the car got from its ads aired during the course of the matches and by the massive logo near the 30-yard circle the visibility that the company received was endless. The Wolfsburg based company launched an IPL edition Vento during the T20 series. The company also displayed its affection towards Wildlife by auctioning an all captains signed VW Passat for Rs. 30 lakh the proceeds of which were donated to WWF (World Wildlife Fund).