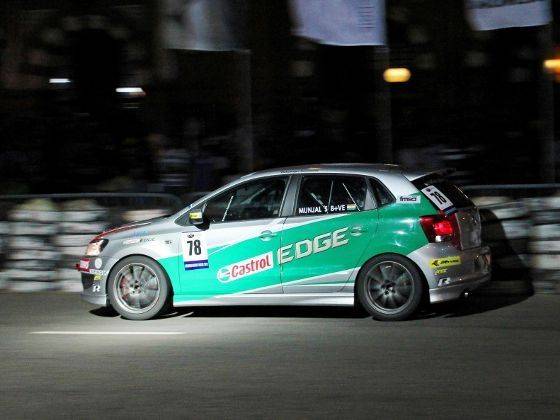 While veteran racing driver Ameya Walawalkar was crowned 2012 Volkswagen Polo R Cup in the final race at the Buddh International Circuit in Noida, earlier this month, it was young gun Munjal Savla who dazzled crowds as he cruised to victory under the spotlights of the Colombo street circuit. Munjal put his three years of experience behind the wheel of a Polo Cup car and dominated proceedings at the Colombo Night Races 2012 from start to finish. Right from the qualifying session that took place on Friday (14th Dec) night, it was Munjal who was at the head of the pack and set the pace, clocking in a hot lap of 2:05.71 minutes over the 4.4km street circuit – a whole second faster than young karting prodigy Ameya Bafna, who qualified in second. Not surprising considering the fact that it was Munjal who had won in Colombo last year as well.
Over the course of the race, Munjal held his lead to take home top honours, while a third-qualified A Sandeep Kumar managed to pass Ameya and take second place while the karting champ finished in third. Regular Polo R Cup driver Angad Singh Matharoo managed fourth place in qualifying, but an unfortunate crash into one of the sand bags that lined the course took him out of action during the race. The top three drivers were followed across the finish line by a trio of local Sri Lankan guest drivers, Romani De Silva, Upulwan Serasinghe and Rohitha Rajapakshe – the son of Sri Lanka's president. Niranjan Todkari, Sumanapala Mannapperuma and Saurav Bandyopadhay were the last three drivers to finish.
Ecstatic about his victory, Munjal commented, "Winning here for second time in a row feels amazing. Winning the pole position by a second made me confident of winning the race. Though I started with a few mistakes in lap 1, I managed to keep my lead and made no further errors. My driving experience here last year really helped me to be at the top of my game. Street racing is absolutely fun and driving in front of a super-charged crowd is a hair-raising experience. I hope we get to do this more often."
Part of the Electric Peacock Festival, this was the second year the Colombo Night Races were run, and the whole event was organised by the Carlton Motor Sports Club, while the Asian Motor Racing Club (AMRC) and Sri Lanka Motor Cycle Club (SLMCC) helped conduct proceedings. The races also saw many other races including the Toyota Etios Motor Racing Tropy, GT3 cars, Forumla LGB and various classes of motorcycles.