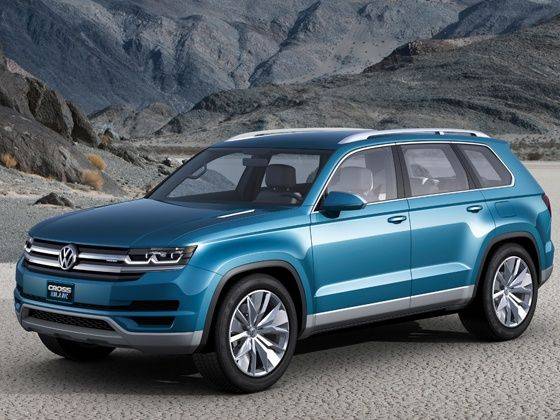 Built on Volkswagen's MQB (Modular Transverse Matrix or Modularer Querbaukasten in German), the latest the CrossBlue concept SUV has been designed for the US and Canadian markets. As expected, t is slotted between the Touareg luxury SUV and the new Tiguan compact SUV, which means that it could fare well in SUV crazy India as well.
However, there is more to it than meets the eye. As the name suggests, the CrossBlue concept is a hybrid that combines a lithium ion battery pack and a diesel engine to provide power to all four wheels via a six-speed double clutch DSG gearbox. A switch on the centre console regulates the choice of powertrain. It has a combined driving range of 1057km!
The TDI diesel makes 190PS of power and 400Nm of torque and drives the front axle only. The two electric motors that drive the front and rear axles develop 54PS and 115PS of power respectively. With both powertrains combined, there's 305PS of power and an impressive 700Nm of torque on tap. VW claims an impressive mileage of 41.61kmpl and in electric it can travel 33km. The 0-100km/h is dealt with in a little over 7 seconds and top speed is pegged at 205km/h in diesel mode and 120km/h in electric mode.
The fuel filler lid is on the left side and on the right side are two electrical sockets, one for charging the battery and the other to power electrical devices.
Designed by Walter de Silva (Head of Design, Volkswagen Group) and Klaus Bischoff (Head of Design, Volkswagen Brand) in close co-operation with Volkswagen of America, the CrossBlue sports a typical American SUV look with straight and simple lines and angular curves. It is painted in 'CrossBlue Glass Flake' and has a contrasting stainless steel trim all around the lower section.
Measuring 4,987mm in length, 2,015mm in width, and 1,733mm in height, the flared wheel arches accommodate a track width of 1,686mm (front) and 1,696mm (rear).
In concept form the VW CrossBlue is a six-seater with individual seats for second and third rows, but the production version is likely to get an optional three-seater bench in the second row.
The dominant interior materials are aluminium, dark-stained banana tree wood accents and leather. It gets a built in 10.2-inch touchscreen infotainment system in its centre console, while two Apple iPad Minis' are integrated into the back of each front head-restraint. Start it and the controls for lights, air-con and four-wheel drive emerge from their resting positions in Jaguar-ish style.
With cutting edge engineering that should do well in the American market, Volkswagen could ditch the electric system for the Indian market, allowing the price to be significantly reduced to make the CrossBlue SUV an attractive proposition.