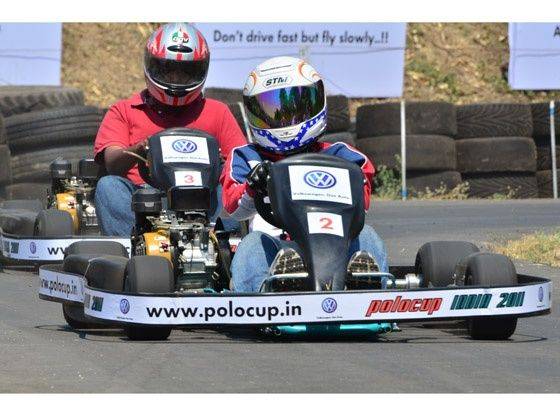 A big reason for the success of the first ever season of the Volkswagen Polo Cup last year was its high level of competency brought about by the skilled and talented drivers, who made up the final 20 drivers in the inaugural 2010 edition.
The 6-leg series that kicked-off in a unique street race in Pune, last year, was once the battling ground for the selection procedure for the 2011 edition. Conducted at the Army sub area Sports Complex in Pune, applicants from the country took part in a adrenalin pumped go-kart selection, where enthusiasts young racers were narrowed down to 20 drivers for the final selection round to be held in Coimbatore. Starting with a day dedicated to practice sessions, the following day proceeded with all registered participants getting two chances to try and score their best time on two different karts.
"The karting selection gave us a chance to test the racing skills of the applicants. The incredible amount of talent present here today is going to make the final selection process all the more difficult and I am sure the Volkswagen JK Tyre Polo Cup fans will be witness to a very exciting season ahead," said Prithviraj Siddappa, Head of Motorsport, Volkswagen India.
The selection process took place under the scrutiny of an expert jury consisting of Akbar Ebrahim, India's only principle instructor in racing, Rayomand Banajee, six times National Champion and Rohitaaz Kumar from JK Tyre Motorsport. The final sets of drivers were chosen based on their fastest lap timings.
Registration and Selection of Drivers
1. From almost 1600 applicants, the number was brought down to 60 after extensive screening from a panel of driver coach experts, who scrutinized the Amaron karting challenge which acted as a feeder for the Polo Cup selection.
2. These 60 went through Round 1 of selection which is the Go-kart selection round held at Pune, from where 20 drivers have been shortlisted.
3. In Coimbatore, 20 drivers will join the 40 drivers who have been selected from Amaron Karting Challenge finals where they will battle it out in the Race Polos. From this round, a total of 10 drivers will be selected.
4. The selected 10 drivers from Coimbatore and 10 drivers from last season of Polo Cup will be the final 20 drivers to race this season.
Motor sports enthusiasts interested in getting further information can log on to the website, www.polocup.in. This website will display information about the format of The Polo Cup India, race updates and driver profiles.