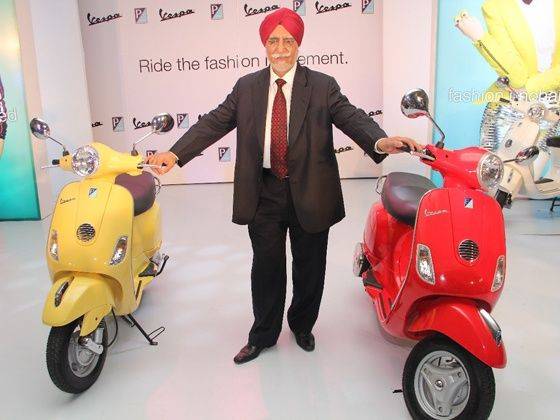 Yesteryears did not offer much of a choice in terms of private ownership. Concieved as a JV between Bajaj auto and Piaggio, the Vespa was launched in the country in 1946 and eventually became known for its robust design and powerful engines. Now, Vespa brings back the joy of riding with the new scooter it calls Vespa (which is originally based around Vespa's international product the LX125) to Indian shores marking the company's return in the two-wheeler market. With a price tag of Rs. 66,661 (ex-showroom Maharashtra), the new Vespa is equipped with 125cc, four stroke, 3-valve single cylinder air-cooled motor that delivers 10.06PS of power @ 7,500rpm and 10.6Nm of torque @ 6,000rpm. And while earlier models had manual transmission, the scooter will be mated with a CVT. It weighs 114kgs with a fuel tank capacity of 8.0 litres.
The Vespa 125 marries modern tech with classic charm, keeping the design outline very similar to the standard model sold earlier. However, in no sense does the revivified avatar have any of the drawbacks coherent with the earlier model. The handling, seating and ride quality has been greatly improved with the styling offered in a more chic way that will attract the youth to this mass-market two-wheeler. Roberto Colaninno, Chairman and CEO, Piaggio Group said, "Today is a proud and historic moment for me and Piaggio. The Vespa is a loved and revered brand globally and we are very excited to launch the original Vespa in India. The Vespa is not just our most famous and bestselling product around the world. It is also our business card, our technological flagship! We will bring India into the league of international markets where consumers are looking to own nothing but the best. I am optimistic about the India growth story."
After its 13-year hiatus, Piaggio wants to position the Vespa as a premium lifestyle product for the brand conscious and those willing to make a style statement. Ravi Chopra, Chairman and Managing Director, Piaggio Vehicles, is confident that the Vespa will find many takers. "There is no better time to be in the Indian two-wheeler scooter space with evolved consumers looking for lifestyle options that go beyond mobility. I am confident, fashion and style conscious consumers will make Vespa a resounding success in India." The 125cc scooter will have a phased rollout, launching in 35 cities before going on sale in other locations and will be manufactured at the company Baramati facility that has an initial capacity of 1.5 lakh scooters annually.
The parent company may also plan to get its other brands in the country with the Moto Guzzi, Aprilia, Derbi, Gilera and Laverda, however, for the time being, Piaggio is focusing only on Vespa.
Read more about Vespa's resurrection in our special coverage here.