Love Notes For Our Favourite Sets Of Wheels On Valentine's Day
Feb 14, 2020
Views : 4379
---
We asked the team to pitch in for a special story this week, one close to all our hearts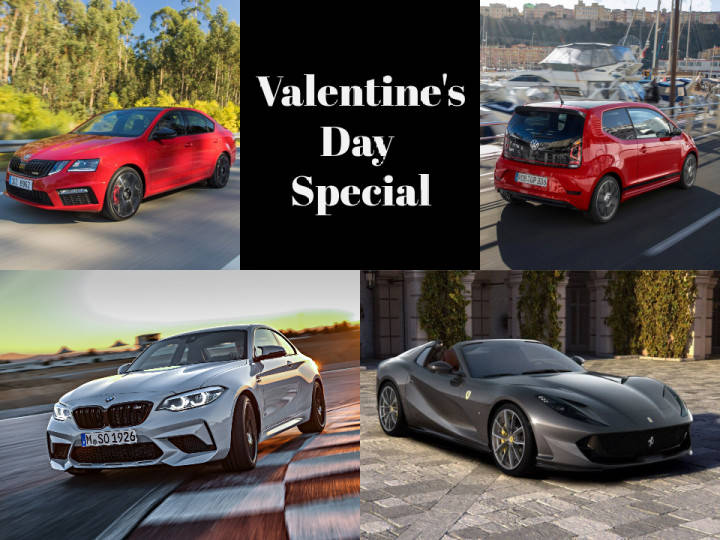 Valentine's Day is an occasion for love, a day where you look at your significant other's twinkling eyes by candle light and contemplate all the reasons why you love them. But shouldn't that love extend to the cars we drive? As light turns to night and the warmth of an Indian summer sets in, we take a look at the cars each of us would have taken out on Valentine's Day, plus those that could never be ours:
Sam's Valentine: Maruti Suzuki Jimny

After my heartbreak over Froggy (read below), I never thought I'd fall again. But something about cute boxes on wheels just tugs at my heartstrings. One look at you on the Auto Expo floor and I was done for. I hear you may not make it in your svelte 3-door avatar, but who cares! I'm planning our road trips already. Come soon, okay? And don't forget to bring your mud boots.
Fuzzy feelings.
Drunk Dial: 2006 Hyundai Tucson

Dear Froggy,
You were and will always remain my first. You found me at a strange time. Two wheels had nearly taken my life just a few months prior to our encounter and logic dictated I go in for something safer. Never knew then all the stories of travel, waterlogging rescue adventures, and memories of uncharted trails we'd make together. I still lament that day in 2018 I had to let go, and we lost each other in the chaos of Maximum City.
Love always, Sam.
Arun's valentine: Skoda Octavia RS 245

Dear RS 245,
I never thought a couple of alphabets and letters strung together would make me weak in my knees. In a world full of those who pointlessly mind their manners, you with your cracks, pops, bangs and overruns make my heart flutter with glee. You're special, a little cuckoo and yet, you'd make the perfect everyday companion. I'd gladly bring you home to Ma. Will you be my valentine?
Love, A.
My fascination with the RS 245 stems from a love of sleeper cars. And that arguably was sparked off by the E46 M3. Naturally, I'd drunk dial it in a heart beat:
Drunk Dial: BMW E46 M3

Dear M3,
You were a desktop wallpaper for years, and I enjoyed every second I saw you on screen (you were Most Wanted, after all) responding to fickle inputs from my then pre-adolescent fingers. You were topless when I first saw you in person, and then put a certain spoilt rich girl from Stuttgart in place. I know I'd have to toil for years to bring you home. But a heart can hope. And pray. Mostly pray.
Love, A.

My dear valentine,
I admire you for your sheer bruteness. Despite being a diesel, you rev hard like a petrol, especially when the 620Nm of twist is sent to the rear wheels and you slip your rear end out of line. I also love the way you handle so balanced that you're always tail-happy. When you come, I promise to buy you plenty of new boots, and we can spend beautiful days wearing them out together. I'd love it if your next iteration comes with a smaller kidney grille.
Adhi's Valentine: BMW M2 Competition

Now, who wouldn't want a rear-wheel-drive bruiser of a BMW coupe which harks back to the good ol' days when M motorsport was a force to reckon with?
The M2 Competition is my valentine because it represents everything I want in a car. It's raunchy, wild and not shy of its other side. But, the best thing I love about the M2 is its size (perfect for our roads) and the fact that it drips with character!

That said, I'll ditch the M2 Competition in a heartbeat if I get a date night with the Mercedes-Benz 190E 2.5-16 EVO II. Nothing beats a German cougar!
Gaurav's Valentine: Ferrari 812 GTS

Me being a hardcore Tifosi fanboy, of course my valentine today is the 812 GTS with an orgasmic V12. It makes a power output of 800PS and 718Nm to make it the most powerful cabriolet you can buy. It also gets a variety of driver tech and aerodynamic trickery to handle the V12 beast.
Drunk Dial: Aston Martin Valkyrie

A car on my drunk dial, would be the Aston Martin Valkyrie hypercar. Aside from the 1,176PS output, the hypercar has been co-designed by Red Bull F1's legendary aero guru, Adrian Newey, which features advanced aerodynamic solutions like ground effect.
Sukrit's Valentine: VW Up! GTI

The VW Up! GTI is playful as it gets and the perfect car to take to meet your parents. It's sophisticated and keeps conversations interesting, and its Mk1 GTI power excites and astonishes. Plus, it shares its name with one of the greatest films about love and companionship.
Drunk Dial: MGB GT

I fell in love with a baby blue MGB GT at first sight, and life was never the same. Its Pininfarina-designed rear end hasn't aged a day since 1965. Those curved lines and subtle tailfins make me breathless with every sighting. What I wouldn't give to hear that straight four exhaust note for the rest of my life.
Add Your Comments