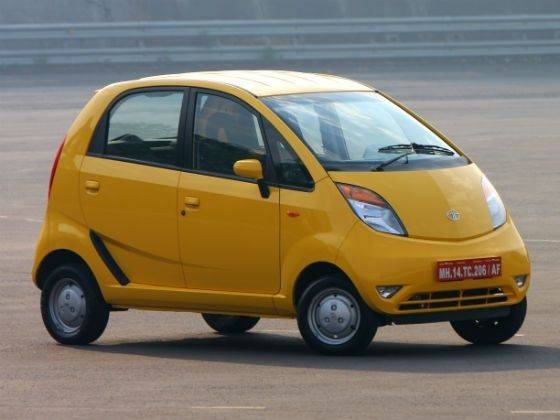 New Variants of Tata Nano
Expected: First half of 2013, Price: Rs 2-2.4 lakh
The much hyped Tata Nano hasn't exactly lived up to expectations since its launch in 2009. To give it a new lease of life, Tata Motors is planning to upgrade the Nano range. The primary upgrade for the 2013 model will be the inclusion of a power steering. Other changes include alloy wheels, glove compartment and a hinged tailgate. However, these upgrades will raise the car's price by around Rs 30,000. Apart from the upgrades, CNG and diesel variants may be launched before the end of 2013. The diesel variant will be powered by 700cc, 2-cylinder engine. The diesel will sport the world's smallest Common-Rail Diesel Engine (CRDI) developed by Bosch and will return 30-35kmpl.
Ford Figo*
Ford's Compact Hatchback
Expected launch: End 2013, Price: Rs 2.8 - 4 lakh
Despite a slowdown, the new Maruti Suzuki Alto 800 racked up over 10,000 bookings before going on sale. Hyundai too has found success with its Eon, that has gone on to rewrite the rules for the entry level car in India. Ford India is focusing on the segment and intends to launch an entry level small car priced between Rs 2.80 lakh and Rs 4 lakh to take on the Maruti Suzuki Alto 800 and the Hyundai Eon. Ford's entry level hatchback will be a stripped out model with no power steering, stereo, air-conditioning and manual windows while the top-of-the-line model will pack all that plus power windows up front and an airbag. In all likelihood, Ford may knock off a cylinder from the Figo's 1.2-litre petrol engine, turn it into an 800cc, three-cylinder mill for its entry level compact hatchback. The small car battle is going to give people greater choice and improved products
*Image for representational purpose only
Face-lifted Maruti Suzuki A-Star
Expected: Mid 2013, Price: Rs. 3.7-4.5 lakh
The Maruti Suzuki A-star has not exactly set sales charts on fire since its launch in 2008. To remedy this situation, Maruti Suzuki has resorted to a revamped A-star that was unveiled at the recent Chengdu Motor Show in China. The updated A-star instead of its curves now sports more distinct lines; the water droplet headlights are replaced by larger, more angular ones.
The front end looks wider and a lot more aggressive than before. The face-lifted A-star will feature the same 1-litre powerplant that produces 68PS @ 6,200rpm and 90Nm @ 3,500rpm. The interiors may not get a major makeover.
Current-gen Hyundai i10*
Face-lifted Hyundai i10
Expected: Late 2013, Price: Rs 3.5-6 lakh
The i10 was a huge success story for Hyundai when it was launched, but with competition upping their game over the years, the i10 hasn't been able to sustain its sales figures. For 2013, Hyundai wants to address this issue by launching an all-new version of the i10. The spy pictures indicate that the new car will be longer and wider than the old car, and with increased wheelbase expect the car to be more spacious and roomier. The small car will have its styling based on the critically acclaimed "Fluidic Sculpture" design language of Hyundai.
The engine employed in the new car will be the Kappa series 1 and 1.2-litre petrol engines, but the engine which is expected to boost the sales figure of the small car is the new 1.1-litre diesel engine being designed by the Korean company. Like all Hyundais, expect the i10 to have an exhaustive feature list with VFM pricing.
*Image for representational purpose only
Face-lifted Chevrolet Beat
Expected: Mid 2013, Price 3.8-5.7 lakh
Showcased at the 2012 Paris Motor Show, the face-lifted version of the Chevrolet Beat will be launched in India in the second or third quarter of 2013 and will carry with it a more enhanced look both on the inside and outside as compared to the outgoing model.
The refurbished American hatch will sport a bigger grille, a redesigned front bumper with a single piece air dam finished in black, and fog lamps that are now placed at the edges of the air dam with chrome surrounds. Other changes include newly designed alloy wheels and rocker panels. The tail lamp cluster has also been tweaked on the next gen Beat, while its tail pipe has gotten slightly bigger.
The insides of the 2013 Beat model will be fitted with a redesigned centre console and a new infotainment system, a more attractive speedo and a circular digital rev counter. The engine options will remain the same in India with the 1.2-litre petrol and the 1.0-litre diesel engine.
Mahindra Reva NXR
Expected: January 13, 2013, Price: Rs 4.5 - 5 lakh
We've already spotted them doing extensive testing and had a look at the amazing plant where these little economizers will be made. With the launch just round the corner, Mahindra Reva is aiming to price its electric car Reva NXR at a 20 per cent premium of the conventionally-run petrol hatchbacks in India. The company is planning to sell 30,000 units in the next three years, including 15,000 units for exports. M&M has tied up with State Bank of India, power distribution companies like BSES and different malls across leading cities for charging stations and it's also in talks with various states to create such facilities across the country.
Datsun model range
Expected: Late 2013, Price: Rs 4-6 lakh

Nissan India unveiled their low-cost Datsun brand for the Indian market a few months ago. The first product will be a A-Star competitor and the other car is expected to be a Santro/Wagon-R-like tall-boy hatch. Both these products will be priced at Rs 4 lakhs onwards, placed below the Nissan car portfolio. This is the first time the Datsun brand has come to Indian shores and there is talk of the two products coming in late 2013. The Datsun brand will target used cars buyers and two-wheeler owners looking for budget cars and the Datsun brand promises to attract them with lightweight, durable, practical and affordable cars.
Volkswagen is expected to launch its smallest car up! in India by mid-2013. The three body styles include a 2-door hatchback, 4-door hatchback version and 4-door wagon with a longer wheelbase. In India, the petrol variant will be powered by a 1.2-litre 4-cylinder engine producing 76PS of power and 183Nm of torque, mated to a 6-speed manual gearbox.
The diesel variant will be powered by the 0.8-litre 2-cylinder turbocharged engine producing 52PS of power and 100Nm of torque, mated to a 6-speed manual transmission. The concept features 18-inch alloys and wider wheel arches. The Indian version will feature disc brakes at the front and rear drum brakes.
The dashboard of the up! Space concept will sport an 8-inch monitor displaying fuel level, range, and speed while another 17-inch monitor will display climate, multi-media and navigation system controls. The Indian version will have fewer safety features and spartan interiors to price it below the Polo.
After taking back the reins from Tata for its sales and distribution network in India, Fiat clearly has its task cut out. However, it is also refreshing it model line-up to boost in India. Its most affordable car, the Grande Punto has been around for a while now and Fiat plans to give it a mid-life face-lift. In all probability, sold abroad as the Punto Evo, is what will be launched here. The Punto Evo features distinctive interior and exterior styling changes and should pack in more equipment as well. It will have a new front bumper, grille, refreshed styling, new wheels, tail lights and interiors and is likely to be lighter and more fuel efficient.
The 1.2-litre and 1.4 FIRE petrol engine as well as the 1.3-litre MultiJet will continue to do duty but we would have loved to see the 1.4-litre MultiAir petrol engine under its hood. Also, only the base variant will of the Punto Evo will be available under Rs 5 lakh. Along with a refreshed Punto Evo and an updated Linea, Fiat needs to ensure effective after sales service before the cars are launched to exploit their full market potential.