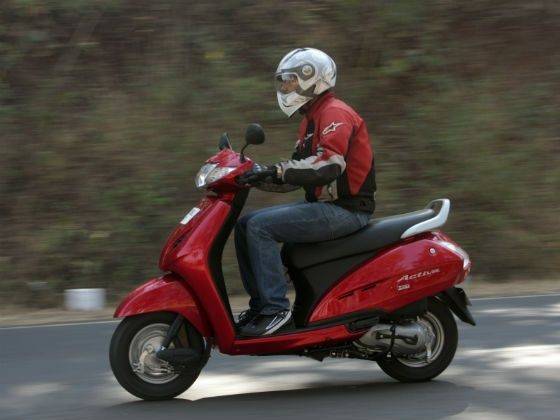 The two and three wheeler segments have registered growth in sales of 2.90 per cent and 4.87 per cent respectively. While scooter sales dominated the growth of the two wheeler segment by changing market dynamics, passenger carriers contributed to the growth of the three wheeler segment.
Here is a break down of the segment wise sales of two and three wheelers.
Two wheeler segment
Scooter, moped and motorcycle sales grew by 14.24 per cent, 1.53 per cent and 0.12 per cent respectively in FY 2012-13 over that of FY 2011-12. The two wheeler segment as a whole experienced a growth of 2.90 per cent during FY 2012-13 over that of FY 2011-12. However, in March 2013 sales of scooters, mopeds and motorcycles declined by 3.18 per cent, 8.32 per cent and 4.54 per cent respectively.
Scooter sales achieved remarkable growth due to new model launches and the introduction of fuel efficient technology. However, weak rural demand and cautious urban sentiments took their toll on motorcycle sales.
In the new financial year the motorcycle segment should see better growth with introduction of more new models while the premium motorcycle segment is also expected to fare well with the new premium biking culture picked up by the youth.
Scooters traditionally used to cater to high income families in metros, but now higher fuel efficiency and ease of riding is seeing them increasingly substitute motorcycles especially in Tier II cities. New model launches resulted in 50 per cent of incremental scooter sales between April-March FY 2013, and this trend is expected to continue with higher demand for new models and expansion of dealer network.
The probable growth rate for the two wheeler segment for FY 2013-14 is has been pegged at 6-8 per cent. However, keeping the volatile market conditions in mind the growth may vary. Also, the fall in petrol prices in the future will give an added impetus to two-wheeler sales in the country.
Three wheeler sales analysis for FY 2012-13
Three wheeler sales in the country experienced a consolidated growth of 4.87 per cent in FY 2012-13 over that of FY 2011-12. The passenger carrier segment grew by 8.58 per cent while during the period while goods carriers registered a drop in sales of 9.20 per cent.
The growth in sales was accounted for by the passenger three wheeler segment while the goods three wheeler segment registered a decline in sales.
In the 2013-14 financial year small three wheeler sales with a payload of 500kg is expected to bring in modest growth to the overall three wheeler segment due to their competitive cost economics and last mile connectivity.
Large three wheelers will face stiffer competition from four-wheelers after the launch of 500 kg payload four wheelers. As a result, sales of large 750 kg payload three wheelers are expected to continue their decline on the sales charts.
Also read:
UV sales drive ahead of passenger cars in FY 2012-13