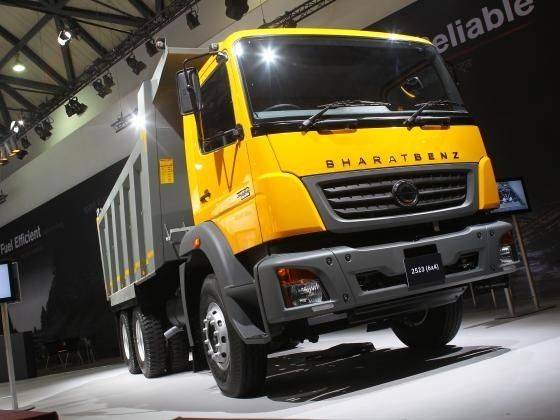 Truck sales in India fell for the eleventh straight month in January as stagnant freight rates and costly funds forced fleet operators to hold back on new purchases despite attractive discounts. Sale of medium and heavy trucks, often considered a barometer of the country's macro economic health, fell 38% in January from the year-ago month, even as discounts and incentives for buyers peaked.
Manufacturers say the downtrend is due to stagnation in freight rates over the past few months, as also slump in demand for new vehicles from companies involved in mining, infrastructure and real estate, the key sectors that drive growth in India's truck market. Tata Motors, the country's largest commercial vehicle manufacturer, said sales of its medium and heavy trucks hit a four-year low in January to 8,722 units, down 52% from the 18,339 units it had sold in the same month last year Similarly, Ashok Leyland, the No 2 bus and truck maker, posted a 25% drop in sales to 6,863 units, compared with 9,200 units sold in the year-ago month.
"Truck sales are largely portraying the state of our economy. We have seen demand dipping across all major sectors, especially mining, and the bigger multi-axle vehicles are the worst hit," said Vinod Aggarwal, chief executive of VE Commercial Vehicles Ltd, a joint venture between Volvo and local partner Eicher MotorsBSE 0.36 %. "Fresh investments are being pulled back by transporters, which has led to the dwindling performance of all categories of bigger trucks." Some analysts attribute the continuing fall to the demand-supply mismatch across the country.
"There is oversupply and the stagnant freight market has forced a further slump," Abdul Majeed, partner and executive director at PricewaterhouseCoopers India, said. "We expect muted sales to continue for the next new months and some revival in demand only in the second half." Majeed said the country faces an oversupply of trucks with about six million on the roads at present. Costly loans were another reason transporters were delaying replacement of fleets, he added.
Meanwhile, to avoid stock build-up several manufacturers have started cutting production. While Ashok LeylandBSE 1.21 % has moved to a five-day week at some plants, Eicher, which reported flat growth in January, is adjusting output by moving to a single-shift operation on some days at its factory in Madhya Pradesh. Recently, Tata MotorsBSE -1.64 % announced a shutdown at its Jamshedpur truck factory, its fourth in the current fiscal, to avoid inventory buildup. To nudge up sales, trucks makers and dealers have started offering freebies, including double warranty and huge interest subvention.
To address the manufacturers' concerns, the Society of Indian Automobile Manufacturers, the apex body of automotive players in India, has approached the National Manufacturing Competitive Council seeking modernisation of vehicle fleet and a higher depreciation rate for commercial vehicles to 60%. "We have had detailed discussions with NMCC on steps needed to support the automobile industry.
While all segments are facing stagnation, the heavier trucks and buses are particularly hit by the slowdown in the economy and need some booster to revive demand," said SIAM's deputy director-general, Sugato Sen.
Also read: Tata trucks get upto Rs 5 lakh discount