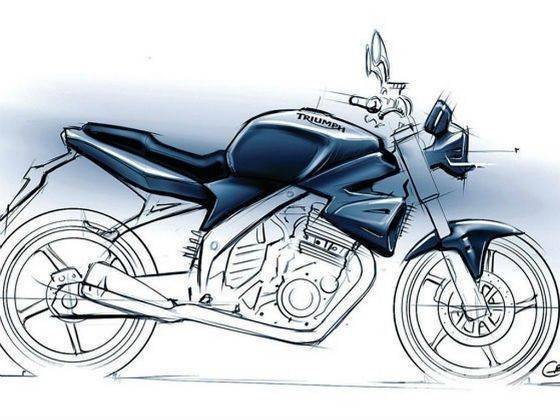 The word is in that Triumph Motorcycles of UK will commence production of a 250cc parallel twin-cylinder engine motorcycle from next year at its new plant that is being set up in Narsapur near Karnataka. According to the blokes at Asphalt and Rubber website, the news came from Triumph's distributor in Indonesia, Rudhy Siswanto of PT Global Motorcycle Trading.
With growing demand for quarter-litre motorcycles as shown by the KTM 200 Duke, the Kawasaki Ninja 250R and the Honda CBR250R, now Triumph too wants a share of the pie. The new motorcycle, said to be on the lines of the Street Triple naked machine from Triumph, will be made in India for the local market as well as exported to other growing Asian markets. It is also estimated that there will be more small capacity models that will be manufactured at Triumph's Indian unit for local as well as export markets.
While this is great news for the Indian motorcycle enthusiasts, it is a clear indication that small capacity motorcycles is where the big names are now going to play in. Fun might have gotten smaller with less horses and undersized engine capacities, but it is the only way forward for global motorcycling giants in the world today. With economies reeling and sales of the litre-class monsters plummeting every year and showing no signs of revival in the near future, companies are being forced to look towards growing economies. The trend is also an indicator that street is where the numbers lie for the next decade.
The past decade has witnessed a heady dose of track-tuned, scary fast 1000cc MotoGP-inspired superbikes, which found enough takers among regular track day goers around the globe. Then the companies could happily ignore the street junta and also the undeveloped markets. But economic setback suffered recently and the one looming in the subsequent future has made everyone sit up and take notice of the fact that all the speed and racing madness is alright but when it comes to number crunching, the street bike market is what is going to get the moolah rolling in. Early signs came with major motorcycle companies like Suzuki and Kawasaki pulling out of MotoGP.
The next indication came from the big H, which swiftly shifted its attention onto an all-new range of machines, what it refers to as Road Sport (Road being the operative word here), starting with the large tech-loaded VFR1200R. The CBR250R followed soon and coming next is the CBR500 family of motorcycles. Offroad giant KTM, the newest entrant in street motorcycle segment, also went all out adding low cost street models in its line-up, with a fitting collaboration with our own Bajaj Auto. Yamaha too showed its new inline triple crossplane engine at last year's Intermot Show in Cologne, which could very well pave the way for platform sharing across its new range of machines ranging between 250cc and 600cc.
Platform sharing and low-cost manufacturing coupled with products for emerging markets and small capacity machines with large numbers seems to be the knack to stay on toes and not trip over the ongoing financial turbulence as has been obvious in the manner in which several companies are managing to rake in respectable numbers with new launches in the street segments. KTM's upcoming street model, the 390 Duke, too, will be brought out not in just its street form but also an Adventure On/Offroad guise, the only big bike segment (BMW G1200, KTM Adventure, Triumph Tiger 800CX, etc) which was the least hit by the last economic downturn.
In simpler words, it is goodbye time for hyper-fast 1,000cc superbikes more or less and welcome for practical yet fun machines which don't scare you silly and can be sold to a wider audience across varying markets. And going by this new trend it won't be too wrong to expect not just Triumph but other manufacturers also to follow suit in bringing 250cc to 600cc machines for the street to India soon.