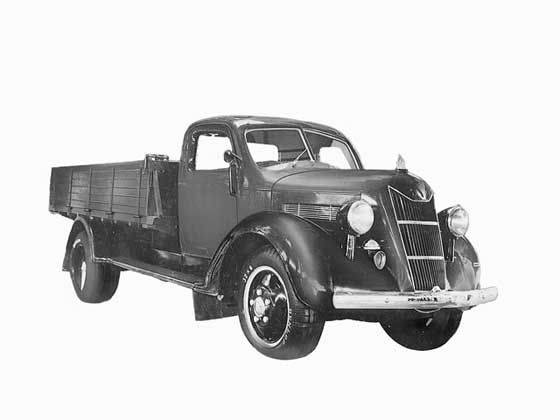 "Open the door, it's a wide world out there" – Sakichi Toyoda
The early beginnings of the Toyota story started over a century ago when Kiichiro's father, Sakichi Toyoda established the Toyoda Enterprise. Known as the "King of Inventors" and the Thomas Edison of Japan, Sakichi was born in 1867 during a period of modernisation in Japan. Growing up, he found it difficult to ignore the impoverished conditions of his village. Sakichi found his calling around his 20th birthday: to contribute to society by accomplishing something of consequence.
The "something of consequence" became clear as he observed the hard manual labour of weaving and spinning cloth by hand, especially by his own mother. He later described the process: "I began thinking about ways to power the looms so that weaving could be done faster, and more cloth could be made at lower cost." In 1926, Sakichi and his son, Kiichiro, perfected the automatic loom design for mass production, the Toyoda G-type Automatic Loom.
The efficiency of the new automatic loom – one worker could operate 25 at the same time – quickly gained the attention of the world's largest textile manufacturer, Platt Brothers & Co. Ltd. in England. In 1929, as company representative charged with the responsibility of concluding a patent agreement for the G-type, Sakichi's son, Kiichiro, decided to go to England via the United States. He wanted to see for himself how the automotive industry has developed.
What Kiichiro saw in the United States became his singular goal: to build a car himself. Some space was set aside at Toyoda Automatic Loom Works and a team of engineers were assembled. Despite various setbacks designing their first engine, Kiichiro and his researchers persevered and succeeded as his father had done when developing the automatic loom.
The 1930s were a precarious time to venture into an entirely new industry, especially as skill set and expertise were few and far between. Kiichiro was nevertheless able to convince Risaburo Toyoda – then in charge of Toyoda Automatic Loom Works – to create a dedicated Automobile Department within the company.
Kiichiro's original plan to build mass produced passenger cars was forced to take a different course as the threat of war approached. Government focus shifted from passenger cars to truck production, prompting Kiichiro to draw up new plans to build trucks. The Model G1 truck was completed in 1935 after less than six months of development. As soon as truck production began, Kiichiro returned to work on his ultimate goal of building a passenger car. The prototype Model AA was completed in 1936.
To decide the brand name to affix to the Model AA, the company ran a public contest. The winning entry out of 20,000 featured the Japanese characters for " Toyota". The new design was chosen as it gave a sense of speed, but also because of the auspicious eight strokes of the characters. Toyota was born, and the Model AA became the first car to carry the new brand name.
On August 28, 1937, Toyota Motor Company (today known as Toyota Motor Corporation) was established with Risaburo as its first President.
"I shall keep on struggling till I drop" – Kiichiro Toyoda
At the end of World War II, although automotive manufacturing facilities in Japan suffered relatively little damage, they were in need of improvement. By the end of 1945, less than half of the employees at Toyota's Koromo Plant remained. Food shortages prompted Toyota to begin cultivating crops at its facility to feed remaining employees while taking on side businesses in order to survive, such as selling pots and pans made from materials previously intended for airplane production.
Always with a visionary foresight, Kiichiro revised the company's direction after carefully observing post-war conditions in Japan, proclaiming: "This will be the era of the small car." As early as October 1945, Toyota's engineers began designing the four-cylinder, 1,000 cc, Type S engine. In 1947, Toyota's first post-war passenger car, the two-door, 27 hp, Model SA fitted with a Type S engine was completed. The company immediately began lobbying authorities for permission to restart production of passenger cars. The nickname given to the Model SA, "Toyopet", became the hallmark name for Toyota's small cars.
Business conditions at the start of the 1950s were becoming challenging with the introduction of depreciatory financial policies. Plans for increased production were quickly dropped and soon the company was struggling to pay employees. Despite this, Toyota maintained its non-dismissal policy, eventually negotiating a 10% salary reduction with the employees to weather the storm.
Personnel cuts eventually became unavoidable, forcing the company and labour unions to return to negotiations. Even though a loophole was available for the company to backtrack on its non-dismissal policy entrenched in the labour agreement, Eiji Toyoda, then Director of Toyota Motor Company, rejected taking this route in favour of maintaining a relationship of trust with employees.
Labour disputes finally came to an end when Kiichiro Toyoda along with several executives resigned in a display of solidarity towards the employees. This action prompted a wave of voluntary retirements, helping the company survive through the financial turbulence.
"The ideal conditions for making things are created when machines, facilities and people work together to add value without generating any waste" – Kiichiro Toyoda
The company's attention turned to increasing efficiency in the 1950s. Even though Kiichiro incorporated his Just-in-Time method into the blueprints of the Koromo Plant, full implementation was never realised with wartime disruption.
Enter Taiichi Ohno, then Manager of Final Assembly in the Manufacturing Department. Ohno was inspired by Sakichi's automatic loom which detected broken threads and stopped production, thereby eliminating wasteful defective products, improving quality and efficiency. In a bid to improve efficiency, Ohno introduced a number of innovations to the production line which became known as jidoka ,or automation with a human touch.
Employees were able to pull on an andon cord to stop the production line if problems are detected, preventing problems from progressing and multiplying further down the line. The Kanban System ,using cards to indicate where and when certain parts are used, strengthened Just-in-Time and reduced the need to stockpile parts which are delivered when needed.
The new Toyota Production System ,a combination of Kiichiro's Just-in-Time and Ohno's jidoka ,was implemented in all Toyota plants and continues to be the cornerstone of Toyota's production facilities worldwide.
"Good thinking, good products" – Toyota slogan adopted in 1953.
During the first half of the 1960s, Toyota worked towards bringing production quality to an internationally competitive level by introducing the total quality control system. Quality targets were set for each process and employees at each stage were responsible for analysing and determining the cause of defects, as well as devising countermeasures. These new production methods created built-in quality.
In 1965, Toyota was awarded the Deming Application Prize established by the Union of Japanese Scientists and Engineers to recognise outstanding improvements in total quality control.
"Oh, What a Feeling!" – early Toyota Motor Sales, USA tag line
A new era began in 1957 when two Toyota Crown samples arrived in Los Angeles, becoming the first Japanese passenger car to be exported to North America. Soon after, Toyota Motor Sales, U.S.A. was established and sales began with a modest 288 vehicles in 1958. First debuted in 1951 as the Model BJ and receiving its legendary name in 1955, the Toyota Land Cruiser quickly gained its reputation of a durable, all-terrain vehicle.
Introduced in 1966, the Toyota Corona became Toyota's first popular car in America, driving sales up threefold to more than 20,000 units in its first year. By 1967, Toyota had become the third best-selling import brand. With cumulative sales reaching 1 million units in 1972, Toyota became the number one import brand in 1975.
Today, Toyota operates 14 manufacturing facilities in North America with local production recently reaching the 25 million mark.
"The European market holds much potential for Toyota, and it demands only the finest products" – Shoichiro Toyoda
Putting Toyota vehicles on European roads, where the first pages of automotive history were written, has always been one of the company's greatest goals. Toyota's early export to Europe began in 1960 to Malta and Cyprus, albeit on a small scale and at the time considered under the company's Middle East operations. But a surprise visitor to Toyota's Tokyo Office in 1962 kicked off Toyota's expansion into Europe.
The visitor was Walther Krohn, then President of Erla Auto Import A/S in Denmark. An importer of a local European brand, Krohn convinced Toyota to export a sample right-hand-drive Toyota Crown to Denmark despite the company believing it was not yet ready to enter a new market. The model proved popular at local motor shows prompting an increase in export volume to 400 units in 1963 and 1,500 units in 1964.
Although early contact with Finland's Korpivaara Oy was established in 1962, formal relations did not materialise following poor road test results. Two years later, while visiting the Motomachi Plant, Korpivaara Oy's President personally performed an endurance test of the Toyota Corona around a test course. The results were so satisfactory, he signed for an order of 2,000 units on the spot.
Distributor agreements followed in quick succession with Louwman & Parqui B.V. of the Netherlands in 1964 and N.V. International Motor Company S.A o. f Belgium in 1966. Toyota AG in Switzerland was created in 1966 following negotiations between Toyota and Emil Frey Ltd.,a car repair business and importer.
The main selling point of Toyota vehicles during the early years in Europe were the models' novelty factor and simplicity in mechanical design, making the vehicles relatively trouble-free. Because sales did not come automatically, early European distributors had to come up with innovative promotional and marketing activities to suit their own regions.
In Denmark and Finland, Toyota distributors showcased the vehicles at local motor shows. The Belgium distributor offered a bold three-year warranty and organised the "My Toyota is Fantastic" campaign. Walter Frey, President of Toyota AG, personally entered local rallies with Toyota vehicles. Perhaps one of the most innovative came from Louwman & Parqui in the Netherlands, where parrots in the zoo owned by the group were trained to repeat: "Buy a Toyota."
In 1964, Toyota set up its first European representative office in Copenhagen, Denmark. Five years later, the office moved to Brussels, Belgium and would later become Toyota Motor Europe.
Markets in the Federal Republic of Germany, France and Great Britain were some of the most challenging for Toyota to make an impact, primarily due to each country's well-established local manufacturer base. Until the 1970, annual import volume was around 1,000 units in the Great Britain. However, Motor Imports Co.,currently Toyota (GB) Ltd., improved their marketing structure, resulting in sales of 6,800 units in 1971 and around 19,000 in 1973.
Toyota's first European production base began in 1968 with the assembly of Toyota Corolla at Salvador Caetano I.M.V.T., S.A.,a Portuguese bus manufacturer. By 1972, vehicle assembly rose to 10,000 units, including the Corona and Dyna truck in addition to the Corolla.
The 1970s were a time of both challenge and growth for Toyota in Europe. The oil crisis during the time meant Toyota's sales decreased from 163,000 units in 1973 to 138,000 in 1974. The effect of the crisis differed from country to country due in part to how well automotive sales networks were established locally. Sales in Norway and Sweden increased while other areas dropped by as much as 40%.
The effects of the business conditions were felt most strongly in the Federal Republic of Germany. Toyota Motor Company decided to take over ownership of its local distributor, Deutsche Toyota-Vetrieb GmbH & Co. KG in 1974. Conditions for Toyota in Germany improved two years later, resulting in the recapitalisation of Deutsche Toyota-Vetrieb which was renamed Toyota Deutschland GmbH.
Around this time, local vehicle development to cater for German market needs started, as well as Toyota's active participation in European motorsports such as rallies and circuit races. In 1979, Toyota Team Europe moved from Brussels to Cologne, Germany, later to become Toyota Motorsport GmbH. The team's Toyota Celica Twincam Turbo won all six rounds of the World Rally Championship in Africa between 1983 and 1986.
Conditions began to improve in the second half of the 1970s as Toyota reached its 1 million Europeanexport milestone in 1976. During this period of recovery, feedback from local distributors helped Toyota Motor Company realise the need to develop competitive and attractive products to meet the needs of European markets, from the cobbled roads of Belgium to the winding mountain roads of Switzerland.
In 1978, Inchcape PLC took Toyota (GB) Ltd. under its wing, followed by Belgium's International Motors in 1979. With the introduction of the Toyota Starlet in 1978, Tercel and Corolla in 1979, Toyota's European sales reached the 300,000 mark for the first time with sales of 324,000 units in 1980.
Toyota Motor Company and Toyota Motor Sales in Japan – the latter sales and marketing company was forced to split during the financial crisis in 1950 – merged after 32 years to form today's Toyota Motor Corporation in 1982. Toyota's annual European sales remained around 290,000 units between 1982 and 1984.
By the end of 1984, plans were put in motion to improve annual European sales to the 400,000 mark. New products, such as the Toyota MR2 in 1985, Supra in 1986 and Celica in 1987, were introduced in Europe to raise Toyota's image. The sales plan succeeded in increasing Toyota's European sales to 422,000 units in 1986 and over 440,000 in 1987.
After entering the European market, Toyota maintained a desire to coexist with local manufacturers. Toyota became a parts supplier to British sports car manufacturer, Lotus,in 1982.
In 1987, Toyota and Volkswagen announced a joint production venture to produce the Toyota Hilux at the German manufacturer's Hannover Plant. Both companies marketed the product in Europe with Volkswagen calling their version the Taro.
With renewed desire to create products matching European needs, a new Toyota Technical Centre for Europe was established in Zaventem, Belgium in 1987. Known today as Toyota Motor Europe Technical Centre, the facility has now been given the task of becoming Toyota's global planning centre for the key A, B and C segments. By the close of the decade, Toyota also established what is known today as Toyota Europe Design Development (ED²) design centre.
Toyota Motor Corporation entered the premium automotive market with the launch of the Lexus brand in 1989. The flagship Lexus LS 400,launched at the North American International Auto Show in Detroit, went on sale in Europe in 1990.
During the 1990s, Toyota's European local production base grew with the start of production at Toyota Motor Manufacturing United Kingdom in 1992 and what is known today as Toyota Motor Manufacturing Turkey in 1994. The first model produced in the United Kingdom was the Toyota Carina E.
Launched in 1997 as a Japan-only model, the Toyota Prius became the world's first mass-produced petrol-electric full hybrid vehicle. The model arrived in Europe at the turn of the Millennium. Fifteen years since the original Prius, sales of Toyota and Lexus hybrid vehicles worldwide has topped over 4 million,with nearly 500,000 units sold in Europe since 2000.
By 1999, Toyota had won the inaugural " International Engine of the Year" award for both the Prius and the then newly launched first generation Toyota Yaris. The Yaris went on to be named " European Car of the Year" in 2000. Production of the Yaris was localised in Europe in 2001 at Toyota Motor Manufacturing France when the first European produced model drove off the production line. In 2002, production began at Toyota Motor Manufacturing Poland for engines and transmissions followed by Toyota Motor Industries Poland in 2005, also an engine producer.
In 2005, Toyota's joint venture manufacturing facility in the Czech Republic with PSA Peugeot Citroën, Toyota Peugeot Citroën Automobile,began production of the Toyota AYGO,Citroën C1 and Peugeot 107. That same year the second generation Toyota Prius was named "European Car of the Year" as sales in Europe reached 1 million units for the first time.
"Toyota will lead the way to the future of mobility, enriching lives around the world with the safest and most responsible ways of moving people. We will meet challenging goals by engaging the talent and passion of people, who believe there is always a better way." – Akio Toyoda
Today, Toyota operates 30 National Sales and Marketing Companies in Europe covering some 56 countries, supported by 14 parts logistics and 11 vehicle logistics centres. There are currently nearly 13 million Toyota and Lexus vehicles in operation in Europe.
75 years after Kiichiro Toyoda transformed the Automobile Department of Toyoda Automatic Loom Works into what is today Toyota Motor Corporation, the company employs over 300,000 people worldwide and has produced in excess of 200 million vehicles.