Toyota spare-parts now available online
Aug 14, 2015
Views : 9479
---
With e-commerce becoming mainstream in India with the likes of Flipkart and Amazon, Toyota Kirloskar Motor takes the internet route to make its spare parts and accessories available to its car owners in Bangalore through its new portal ToyotaPartsConnect.in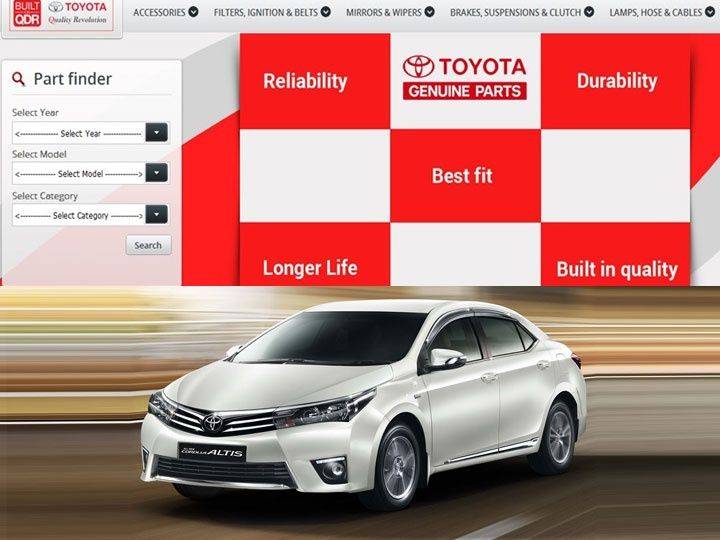 In an announcement, Toyota Kirloskar Motor Private Limited (TKM) launched its new online portal www.toyotapartsconnect.in which will further help the distribution of its genuine spare parts and accessories to the retail market. Mass success of e-commerce ventures like Flipkart, Amazon and start-ups like BigBasket and Lenskart has prompted Toyota to take the internet route. The online business has caught on to the fancy of Indian consumers who have warmed up to the idea of buying products online – from something as basic as daily grocery to high-end smart phones.

Toyota feels this growing sentiment in Indian consumers will help the Japanese car manufacturer in its distribution and hassle free sales of its spare parts. This new channel of distribution was started as a pilot early this year in Bangalore and will additionally support the regular distribution of its after sale spare parts.

The company states that Toyota's lean inventory management and "Just in Time" has been adopted while developing this channel to deliver its genuine spare parts and accessories at the customer's doorstep. The company is hopeful that this new concept will give it the edge to reach out to more customers, without them worrying about the authenticity of the parts. TKM currently supplies spare parts twice a day to all the metro cities as part of it supply system and logistics network. Toyota claims to be one of the best in the industry with around 98.5 per cent supply rate of spare parts.

Initially, around 400 Toyota genuine spare parts such as brake pads, clutch plates, wiper blades, oil filters, air filters in addition to around 30 Toyota genuine accessories will be sold through the online channel by the parts distributors. With www.toyotapartsconnect.in, Toyota aims to take its customer service to the next level facilitating the use of Toyota genuine spare parts anywhere and anytime at user's own convenience. In the first phase of launch, this service will be available in Bangalore and later will be expanded to other cities.



Shekar Viswanathan, Vice Chairman and Whole-time Director said, "We are very keen to spearhead this unique initiative of launching the digital platform for our customers, which is a first of its kind in the industry. This additional distribution channel reinforces our commitment towards being the leader in customer satisfaction and safety therefore enhancing our customer delight. Toyota strongly believes in bringing newness to its products & services continuously incorporating customer feedback and addressing the changing customer requirements. In the first phase, customers across Bangalore will now be able to shop for all their Toyota car and care needs with ease and convenience of the digital platform. We will be expanding this to the other cities in due course."

The key USPs of this portal is ease of finding a part with varied and extensive search options, multiple check points to choose the right parts and selecting the nearest Toyota authorised dealer or distributor for delivery of spare part. Apart from this, the company has also incorporated the basic parts fitment instruction manual for key parts which can be viewed by customers who have purchased the spare parts.