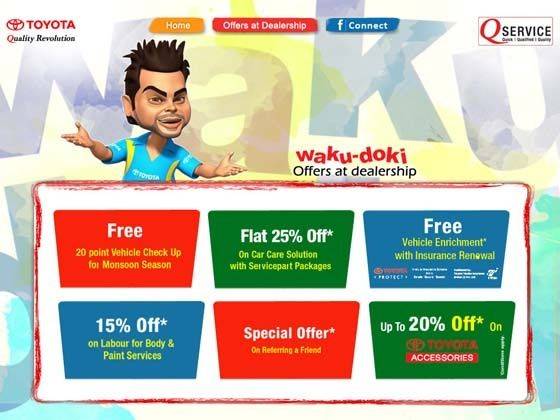 Toyota Kirloskar Motor (TKM) has launched its 'Waku Doki Q Service Campaign' on July 16 that will continue till September 15, 2012, across Toyota dealerships in the country, where customers can avail of free check-ups and custom offers on Toyota cars.
"Through this campaign we are trying to add a one-stop shop experience for our customers. With the onset of monsoon ensuring the readiness of the vehicle will be one of the motive for all our customers who visit the dealers. This campaign will help our customers to service their cars while enjoying the benefits through various packages and gear up their vehicles for longer journeys," Sandeep Singh, Deputy Managing Director, Sales & Marketing, TKM, said.
Under the 'Waku Doki Q Service Campaign', all Toyota customers will be eligible for a free 20-point check-up in lieu of the monsoons. Customers can register themselves on Toyota's special site to avail more offers during this period. Offers include a flat 25 per cent off on car care solutions, 15 per cent off on labour for body and paint services, refer a friend offer etc, all subject to conditions. They will also be able to avail of customised offers which include insurance packages, offers on accessories in addition to service packages on parts, tyres, battery etc.
Also read: Hyundai launches sixth edition of free car check-up camp