Hero Takes The Wraps Off Three New Electric Bicycles
by Gaurav
Feb 13, 2020
Views : 48806
---
The brand's portfolio includes an electric folding bike, a straphanger and an electric fat bike
Hero recently acquired German firm HNF Nicolai whose products will be introduced in India soon.
Hero Cycles is looking to capture a 10 per cent share in the global electric bicycle segment by 2022.
The company's Firefox and Hero Sprint Pro lineup were also on display.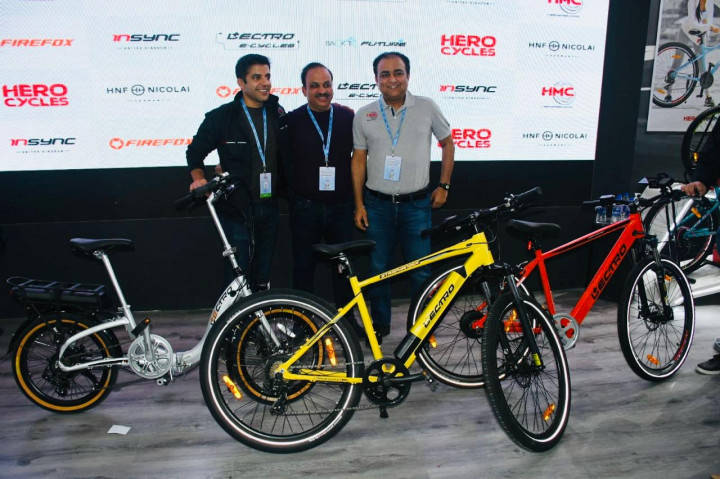 The two-wheeler space at Auto Expo wasn't as bustling as it used to be thanks to the recent downturn in the market. But where most manufactures saw the cup as half empty, Hero Cycles saw it as half full. Seizing the opportunity, the company unveiled three new electric cycles: the Straphanger, Essentia Connect, and Easy Step.
There's very little we know about these e-bikes since they haven't been launched yet. However, according to Hero, the Essentia Connect and Straphanger are pedal-assisted bikes while the Easy Step is a foldable e-bicycle. Interestingly, the first of the trio, the Essentia Connect, features a 250W hub motor and has a top speed of 25kmph.
Also Read: Hero EZephyr Electric Cycle: Review
On a slightly different note, Hero Group stepped into the European market by acquiring German e-bike maker HNF Nicolai, whose products will soon be launched in India. The bikemaker previously teamed up with Yamaha to introduce the Hero Lectro EHX20, an e-bike with a claimed range of 60km-70km. You can read all about it here.

Here's the official statement from the manufacturer:

Press Release:
Hero Cycles Grabs Spotlight with Its Range of Futuristic Electric Bicycles at Auto Expo-The Motor Show 2020
Hero Cycles showcases a series of new products including an electric folding bike, a straphanger and an electric fat bike.

Also on display are products from the recently-acquired German firm HNF Nicolai which are set to make a splash in the Indian market soon.
New Delhi, February 11th, 2020: Hero Cycles today showcased the major innovation leap made by it in the field of electric bicycle manufacturing and design through a series of futuristic products at the Auto Expo-The Motor Show 2020 that included Straphanger, Essentia Connect, and Easy Step range of electric bicycles.
While Easy Step, with its foldable body and 7-speed gear, makes it unique to the need of an urban consumer, Straphanger brings together the joy of pedaling with the help of battery at the right time. Essentia Connect, on the other hand, transforms the experience of pedaling e-bikes with max speed of 25 km/hour and its superior rear hub motor of 250W.
As it works to fulfill its vision of capturing a 10 per cent share in global electric bicycle manufacturing, the Hero Cycles products highlight a new dimension in the field of Indian bicycle industry. Hero Cycles that has for decades maintained its position as the leading bicycle manufacturer and seller in India has in recent years taken rapid strides in the field of electric mobility by boosting its innovation and manufacturing capability. Recently Hero Group entered the European market by acquiring prominent German e-bike maker HNF Nicolai. The company has already set up a major design and innovation base in the UK through its state-of-the-art Global Design Centre at Manchester.
These products showcased at the Auto Expo are landmark innovation leaps and are set to usher in a new era in the space of urban commuting and adventure biking. Hero Cycles also displayed E-bikes from the stable of the recently-acquired German firm HNF Nicolai which will soon make inroads in the Indian market as well. Also, Hero's existing portfolio in the urban e-bike segment in the form of the Lectro brand with products like Townmaster, Glide and E Zephyr were displayed prominently.
"The growing acceptability of electrical vehicles in India has given us an opportunity to engage more towards our vision of capturing 10 per cent share in global electric bicycle manufacturing by 2022. Our single-minded focus on bolstering our capacity in research and design innovation as well as in manufacturing to produce truly global e bikes in India will play a critical role in it. Our product showcase at the Auto Expo is truly representative of this path-breaking leap for our brand," said Mr. Pankaj M Munjal, Chairman & Managing Director, HMC, a Hero Motors Company.
Hero Cycles also showcased the innovative business solutions initiated by it to make e-bikes more viable and useful in a country like India. For example, Hero Cycles is actively advocating for E-bikes to replace motorcycles for micro deliveries in India. For this, it is devising innovating accessories to be fitted in e bikes such as baskets in front and back and a battery with higher range to gives better mileage in one charge. The Hero stall will showcase such products that can immediately be adopted by organizations as modes of delivery to promote eco-friendly transport.
Hero traditional brands Firefox and Hero Sprint Pro were prominently displayed at the Auto Expo.
Add Your Comments
View all comments