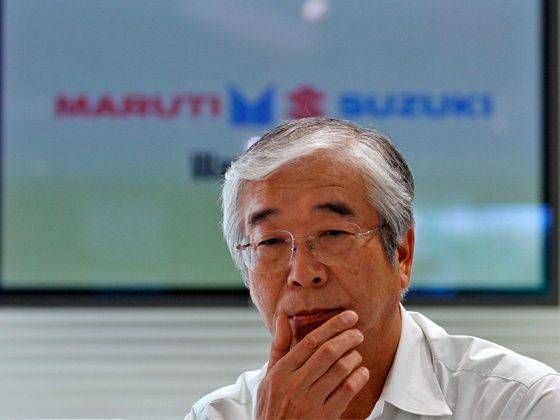 Executives in the auto industry are a worried lot. Poor sales, weak demand, big discounts, high inventory and plant shutdowns have the industry making headlines for all the wrong reasons. But at Maruti Suzuki, India's top car seller, the anxiety at the HQ these days may be for an entirely different reason.
The Rs 37,000-crore company has just announced a top-level change. Shinzo Nakanishi, 65, managing director since 2007, will retire at the end of the month and Kenichi Ayukawa, 57, will take his place from April 1.
Any leadership transition brings in anxiety. But this one at Maruti is likely to be a difficult one as it comes at a critical time. The Indian economy is going through a rough patch and the auto industry is feeling the pinch. Any organisational change at this time is likely to distract, even if in a small way, from the business challenges.
It's also the fear of the unknown that is creating anxiety within sections of Maruti's executives. What is Ayukawa like as a leader? How much does he understand India? Will he understand the cultural differences like his predecessor? What will it take to gain his confidence?
With stark cultural differences between India and Japan, Ayukawa's lack of operational exposure in India and his "quiet, reserved demeanour" "as one company insider who did not want to be named put it" makes the situation even more challenging. As Ayukawa prepares to take charge, we outline five challenges that await him:
The War Within
Maruti contributes more than a third to Suzuki's global sales and about 40% of its global profits. Clearly, Maruti is critical for Suzuki's future. And understandably, global chief Osamu Suzuki will do everything he possibly can to ensure Maruti's future growth here. Now consider the fact that Ayukawa has no operational experience in India. Yes he headed Suzuki's Pakistan subsidiary and perhaps has some understanding of the cultural nuances of the region. But India is a different ballgame. The complexity of the Indian market, its competitive intensity and size of Suzuki's business here are of a very different order.
Yes, Ayukawa was also appointed part-time director on Maruti's board in 2008. And, since 2011, he has been in charge of Suzuki's overseas marketing, including India. This would have brought him to India every three to six months. This should have given him a good board-level view into the business here and some understanding of the Indian market. But the fact remains that Ayukawa has very little operational understanding of the India business. At a time when competition in the Indian market is set to intensify, this lack of India understanding will certainly be a big handicap for the new MD of Maruti Suzuki.
So why did Suzuki pick Ayukawa? Perhaps because it sees a bigger challenge that the new Maruti MD must deal with. Think about it like this, says a senior Maruti executive: for 30 years the engineers at the Japan HQ developed these small cars that sold really well in some "distant place" called India. In charge of all the critical decisions and development, Suzuki always called the shots and was in charge.
Now, suddenly, it sees the centre of gravity shifting. It has to train hundreds of Indian engineers in the most intricate parts of product development. The R&D centre in India is being scaled up and will be fully integrated with that in Japan for product development. Not just that, India will now increasingly be asked to do bigger things at a cheaper cost and faster speed, setting new benchmarks. "The child has now turned into an adult, now outpacing the parent. It is a huge internal organisational shift," the executive who did not want to be named says.
Maruti Suzuki chairman RC Bhargava is candid: "Over the years what we have seen is that Japanese and Indians do not always work in harmony with each other. Nakanishi's presence as India MD made it easy for Maruti to work with the HQ." As Suzuki Motors scales up its operations and expectations from India, it is important that there is minimal friction between the HQ and the Indian subsidiary.
The expectation is that Ayukawa, with his long career and HQ stint, will be able to leverage his network and relationships in Japan to smoothen the growth of Maruti Suzuki in future. This will be one of the biggest challenges that Ayukawa will have to deal with.
The India Connect
When Nakanishi took charge in 2007 as Maruti Suzuki MD, there were concerns about his understanding of India. What made it even more difficult was the fact that he was succeeding Jagdish Khattar, whose market and people connect were good. But Nakanishi, despite being a foreigner who spoke with heavily accented English, managed fine.
And the credit must go to Nakanishi's deep and long understanding of India. His association with India goes back to 1982, even before Maruti was set up. It was his India report that actually convinced Suzuki to invest $200 million in India when nobody wanted to invest here. Over the years, Nakanishi has been connected to India in different capacities. Before taking over as the MD in 2007, he was also chairman of the company for five years. His daughter, who is getting married this year, was born in Delhi.
Ayukawa has no such Indian connection to lean on. Even though he has been a part-time director of Maruti since 2008, inside the company not many know much about him. "He is quiet and reserved. I have not seen him speak much. Frankly, we don't know much about him," says a senior Maruti Suzuki executive. With Nakanishi, they could take many things for granted.
He knew what different Indian states were, had travelled extensively within India, understood Indian politics and knew the names of the vendors well. This will not be the case with his successor. As a result, managing senior Indian executives and vendors, establishing a good connect with them and gaining their confidence should be on top of Ayukawa's to-do list when he takes the charge from April 1.
It is likely that Ayukawa's appointment may also coincide with at least two other top-level changes at Maruti Suzuki. The terms of two senior Japanese executives "Tsuneo Ohashi (director, production) and Keiichi Asahi (director, engineering)" may come to an end soon as they both were appointed in 2008. Ayukawa will likely have some say in these appointments.
While all the above organisational issues will demand Ayukawa's attention, he will have to quickly familiarise himself with India, understand the competitive dynamics and lead the charge from the front. Finally, Maruti faced its worst labour unrest at its Manesar plant last year. The crisis must be fresh in Ayukawa's memory.
Leading From the Front
Despite 17 auto companies and their serious India ambitions, Maruti has managed to retain close to 40% market share so far. But holding on to that share will not be easy. Virtually all car companies, plagued by slowing growth in developed markets, are seriously looking at ways to grow the India business. Ford is making India an export hub for both engines and cars to gain scale, manage costs and in the process build market share here.
Volkswagen has just shuffled its top deck seeking more aggressive growth going forward. Nissan is looking to launch its entry-level compact Datsun in 2013-14 and looking to grab 10% market share by 2016. Petrol-focused Honda is launching cars with diesel variants.
Maruti's bastion "the small car segment, which accounts for 70% of the market" will see an all-round attack from competitors. Ayukawa will have a tough time protecting Maruti's lead.
As a leader, Maruti will face challenges on two important fronts. For long, Maruti's biggest edge vis-a-vis its competitors has been its wide dealer and distribution network with close to 1,200 sales outlets and over 3,000 service outlets. Hyundai, its closest competitor, has 346 dealers and 800 service points. But almost all auto MNCs are increasing their sales footprint to push sales and close the gap with Maruti.
Two, Maruti has always scored well (almost always ranking in the top five) on product quality, performance and dealer network as per customer satisfaction rankings done by JD Power, an automobile consultancy. "Now others are fast catching up. It will have to work harder to maintain its grip on the Indian market," says Mohit Arora, executive director, JD Power Asia Pacific.
Rev up R&D
Maruti has made it clear that it will remain focused on small cars and not get distracted by exploring bigger sedans. If so then it better have a small car portfolio that far outpaces all its competitors in every way. Many of Maruti's models "like Wagon R and Zen Estilo to name two" are old and jaded and urgently need to be phased out and replaced with newer models.
Move Maruti to a Higher Orbit
If all goes well, Maruti will be a different organisation five years from now. In its capabilities "from R&D to production" it will increasingly be as equipped or even better than its parent in Japan. This will help the company cater to India better. However, in the years ahead, Maruti will also have to take on more responsibility of growing Suzuki's global business. It is expected that by 2020, Maruti will invest Rs 18,000 crore in new factories, which will double its manufacturing capacity to about 30 lakh units.
At least a third of that "10 lakh" will be exported. So far export opportunities were primarily routed through the HQ. But Maruti now has the authority and the autonomy to scour the markets and take decisions. "Maruti will have to decide everything - from which country to export to, what product to ship, how to price it, and where to set up plants. This management tweak will have tremendous impact," says a senior Maruti executive.
Shinzo Nakanishi, outgoing MD of Maruti Suzuki, spoke about his successor, his unfulfilled dreams, his vision for Maruti Suzuki and challenges that lie ahead for the company.
On why did Suzuki pick Kenichi Ayukawa as the new MD
He knows India operations. He has been a part time director on the Maruti Suzuki board since 2008. (Because of this) I don't need much time to help him transition.
On Ayukawa's lack of India knowledge
He used to be the MD of Suzuki Pakistan and he understands the region and the culture well. I do not think lack of operational experience in India will handicap him in anyway.
On his advice to his successor
There are many ways to show leadership (there is no one way). Be yourself and manage the business. Suzuki is very lucky to have very good MEOs (Managing Executive Officers) and Eos (Executive Officers). He is not alone.
On challenges he sees ahead
The intensifying competition is the toughest thing that Maruti faces. There are 17 auto companies which are competing for India buyers.
On where he sees Maruti Suzuki five years from now
It should be able to double its sales five years from now.
On his unfulfilled dream
I wanted our market share to go up to 50 per cent from 40 per cent. That was my dream. I could not do it. I hope he is able to