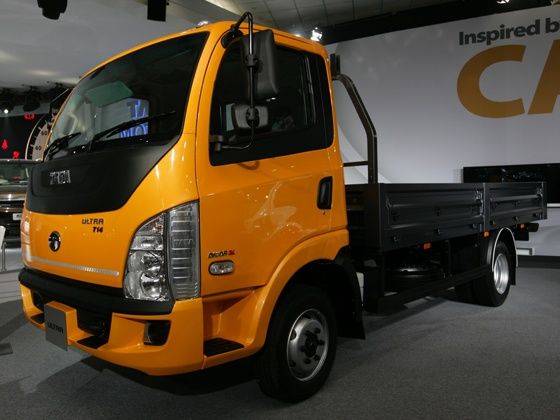 Bracing for tough times ahead, Tata Motors, India's largest automobile manufacturer in revenues, has embarked on a major belt tightening exercise. The company is making efforts to tide over a market dip in demand for its key commercial vehicles business.
ET learns that Karl Slym, the new managing director of Tata Motors, has asked departments to reduce spends and to rationalise travel, stay and even curtail production operations and certain spends on product development.
An email sent by Karl Slym to employees said, "Given the seriousness of the current business scenario, there is an immediate need to cut back on every discretionary expense. One of the big ticket expenses is travel. I would expect air travel, especially overseas, to happen only for the most inescapable reasons."
Slym urged that employees should make better use of technology-enabled conference rather than face-to-face meetings. The measures are not restricted to Indian operations. Even international subsidiaries like Tata Motors Thailand are undertaking measures to cut down the cost.
The finance vice president of company's Thailand subsidiary, Abhishek Sinha in an email told the employees. "We have very little choice but to conserve cash at all costs and it can be done with support of each of you. The situation will definitely ease out in the future once the sales volumes can be re-generated."
Sinha has urged the team to revise the sourcing plan with an eye to improving stock position and rely on video conferencing as much as possible instead of travelling in person. An email sent to Tata Motors did not elicit any response.
ET learns that the auto major has embarked on periodic block closures across plants, as demand for heavy and light commercial vehicles have shrunk across the industry.
Tata Motors as the market leader is impacted the most due to extraneous factors such as severe curtailment of mining and a slowdown in infrastructure spends.
Plant closures are become a recurring feature. Most factories now function on a five-day week, against seven-day week earlier. ET's sources say that the Lucknow plant has been asked to operate on a four-day week basis from Monday.
Also, production of passenger cars in the Pune plant has been halved. Despite posting intact domestic numbers for the commercial vehicle division, the contribution of Medium and Heavy Commercial Vehicle (M&HC) has been declining. Substitution of M&HCVs by small commercial vehicle segment has led to declining margins and the cash condition of the company is in a poor state. As a result, the company has discontinued basic allowance such as subsidies for house rent.
"Tata Motors has been suffering at the operational level in both the segments — M&HCVs and passenger vehicles. Offering of higher discounts, higher promotional spends and lower volumes have shrunk its margins considerably. We expect the near term environment to remain challenging for the company," commented Yaresh Kothari, auto analyst, Angel Broking.
ET learns, among the measures include severe curtailment of expenses which otherwise were permitted in the normal course of business. The company has mandated employees to opt for rail travel and avoid air travel as much as possible, to avoid cabs and opt for local trains or buses when in other cities. The cost-cutting exercise is a serious effort as even the top brass, including directors, have been asked not to travel by the business class.
On business tours, a diktat directs the employees to travel during the night so that hotel costs are avoided and when stay cannot be avoided, stay in guest houses or budget hotels. The company has also asked its employees to cancel certain local as well as international conferences and rather rely on video conferencing to reduce travelling and lodging costs.
Approvals for future conferences are also being avoided wherever possible. On spare parts procurement, the purchase department has been directed not to order stock that can be delayed without causing any significant business impact. On material procurement, the management has asked the concerned department to revise sourcing plan in line with the model wise production plan.
Control cash being requested as 'advance' for expenses (especially for vehicle testing expenses). Steps have been taken to revisit area of expenses, verify expense incurrence in the respective department and identify any possibilities of reduction in the same through re-negotiation or otherwise.
An executive familiar with the development said: "The cost cutting measure is not restricted to Tata Motors, but is across the group. In a situation like this when the market is down, economies are down, companies are required to take such steps and the move by Tata Motors is in sync with the overall environment."
"The lots of initiatives like block closures have been taken to avoid any unnecessary inventory build up and the company clearly feels this is the time to conserve resources and maintain health," the executive said.
Already Tata Motors has resorted to three block closures at different plants to produce vehicles according to the demand and ET learns, there is one more block closure of three days expected at the Pune's commercial vehicle plant from December 24 to December 26.
The correction in production is clearly seen, between April to November 2012 period, the passenger vehicles production is flat for period, whereas sales have grown 5 per cent in the same period to 2,23,399 units. In April to November period, Tata Motors commercial vehicle sales dropped 1.13 per cent to 2,89,214 units whereas the production has dropped 14.74 per cent to 2,92,571 units.
Tata Motors standalone operating margins (EBITDA) excluding other income have almost halved from the peak of December quarter of 2010 when it was 12.6 per cent to 6.1 per cent as at the end of September 12 quarter.
Tata Motors efforts are paying off.
The cost rationalisation moves have seen a substantial decline in its major expenses like employee and other expenditure sequentially over the June quarter. In the September quarter, as compared to the June 2012 quarter, the employee cost as a percentage to net sales has declined by 70 basis points to 6 per cent while the fall in the other expenditure during the period has been steeper by 200 basis points to 14.6 per cent.