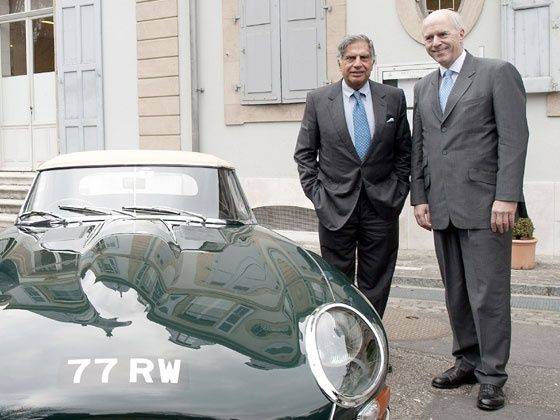 Carl-Peter Forster (right) with Ratan Tata at the recent commemoration of the Jaguar E-Type at the 2011 Geneva Motor Show
In a statement, the company said Forster has ceased to be the Group CEO and Managing Director with immediate effect, due to his unavoidable personal circumstances.

"However, at the request of the board, Forster will continue to serve the Board of Tata Motors Ltd as a non- executive member," it said.

Post his exit, Prakash Telang, MD of India Operations, and Ralf Speth, CEO of Jaguar Land Rover, will represent their respective operations on the Board, the statement added.

Commenting on the development, Tata Motors Chairman of the Board Ratan Tata, said: "The board respects Carl-Peter's personal circumstances that led to this move. We would like to thank him for his contributions to the successful development of our company in his role as Group CEO and MD".

"We are looking forward to continue to working with him as a non-executive member of the Board."

On his exit from the company, Forster said: "I deeply regret that my personal circumstances make it difficult for me to continue to perform the challenging duties of managing the thriving global activities of the Tata Motors Group with its main activities in India and the UK and increasingly in additional overseas markets".

A former head of General Motors, Europe, Forster had joined Tata Motors as the Group Chief Executive Officer of the company in February, 2010.

A veteran of the auto industry, he had also worked with BMW where he held various positions, including that of Managing Director of BMW South Africa and was also on the Managing Board of BMW responsible for manufacturing.

His exit comes at a time when Tata Motors is facing declining sales both in domestic and international markets, mainly in the passenger vehicles segment as the auto industry grapples to overcome slowdown.

The company's domestic cumulative sales in the April- August period of this fiscal declined by 21 per cent to 99,129 units as against 1,25,311 units in the same period last fiscal.

Cumulative sales of commercial vehicles in the domestic market for the fiscal are, however up 17 per cent at 1,96,887 units.