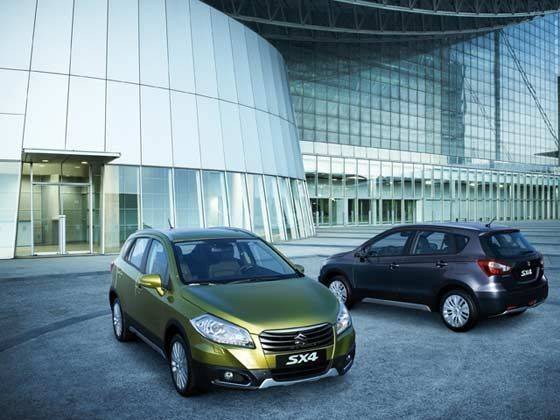 After teasing us with little more than a silhouette of its C-segment contender prior to the start of the Geneva Motor Show this year, Suzuki has now taken the wraps off its ambitious project, and what we have is in fact a rather bold looking SX4 model remodelled to a now very distinctive crossover profile, which are made evident by its wheel arch mouldings, skid plates and integrated roof rails.
At the ongoing 83rd Geneva International Motor Show fans get a closer look at what is now the production version of the S-Cross based model showcased at Paris last year. Being developed by Suzuki designers and engineers as a successor to the current generation SX4, the new crossover while marking Suzuki's entry into the C segment will inherit the SX4 badge (S for Suzuki, X for crossover and 4 representing four-wheel drive).
By uniting its compact car know-how with technologies honed for sport utility vehicles Suzuki has managed to piece together the new SX4 Crossover in a manner that promises buyers a combination of styling, utility, performance and fuel economy.
With a 4,300mm overall length and a 2,600mm wheelbase the SX4 Crossover offers plenty of cabin space and a 814mm distance between the front and rear occupants. What's more, even with the rear seat in an upright position, the new SX4 Crossover is a class leader in terms of luggage capacity (430 litres).
Salient features on the SX4 Crossover include the world's first double sliding glass sunroof and a new 4WD system that has four driver-selectable driving modes for better performance and safety under diverse conditions. Engine refinements, superior aerodynamics, and the high tensile steel used in the bodywork mean that the new SX4 Crossover has remarkably low CO2 emissions for a C segment vehicle.
Powering Suzuki's latest creation is a 1.6-litre petrol engine based on the current M16A and a 1.6-litre diesel engine. A five-speed manual transmission is available with the petrol models and a six-speed manual transmission is mated to the 1.6-litre diesel engine.
Suzuki will be building the vehicle at the Magyar Suzuki plant in Hungary and once launched the new SX4 Crossover will be exported to more countries.