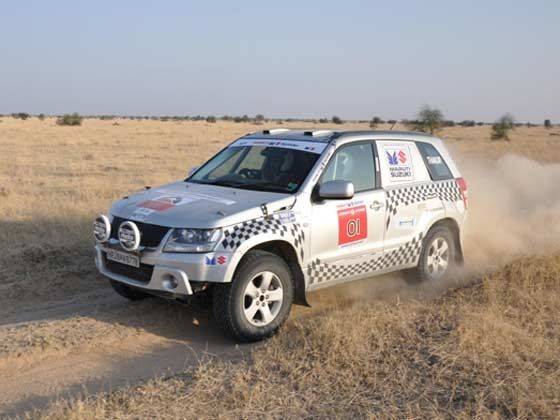 Having covered over 2,200 kms from flag off the 11th edition of the country's most gruelling desert rally has waved the chequered flag and just like in many editions before in 2013 it once again Maruti Suzuki that has dominated across all categories.


The final stages of the competition saw the finalists battling in a neck to neck competition all the way to the finish line. In the final lap from Bikaner to Jaisalmer to Jaipur the Thar Desert provided an apt crescendo to the 6-day annual rally event.


Driving a Maruti Suzuki Grand Vitara along with his navigator Parminder Thakur, Suresh Rana of Team Maruti Suzuki won the overall rally championship winning in the XTREME category. Sanjay Takale with his Maruti Suzuki SX4 took away the winning position in the XPLORE category, and Sombed Chanda won the NDURE category with his Maruti Suzuki Gypsy.


Congratulating the winners of the Desert Storm this year, Manohar Bhat, Vice President, Marketing of Maruti Suzuki India said, "Each year we have seen an increase in the popularity of motorsports in India. For Maruti Suzuki, the rally is a platform to provide excitement to the motorsport lovers and also promote controlled and safe driving habits."
| | | | |
| --- | --- | --- | --- |
| Category | Position I | Position II | Position III |
| Xtreme | Suresh Rana | Sunny Sidhu | Lohit Urs |
| Xplore | Sanjay Takale | Satish Gopalkrishnan | Rajesh Chalana |
| Ndure | Somdeb Chanda | Jagmeet Gill | Parth Beniwal |
| MotoQuad overall | Mohit Verma | Vijay Parmar | Stephan Raush |
"It is heartening to see the nerve and grit of all participants to complete this rally overcoming the challenges of the harsh sandy landscapes of the desert. Maruti Suzuki cars performed well. Thanks to the enthusiasm of the participants and Maruti Suzuki customers to make this a success. We hope to see more intense rally in 2014," he added.


Traversing through hostile conditions at various stages the Maruti Suzuki Desert Storm rally crossed through the tough and undulating interiors of Rajasthan, and later crossed the cities of Bikaner, Chattargarh, Jaisalmer, Pokharn Gajnaur, Lakshmangarh, etc. before finally concluding at Jaipur.


This year the rally had 5 competitive legs of which two were night stages. What started off with over 152 vehicles saw only 86 vehicles successfully complete the rally in 2013. A special mention ought to be made for the ten women (8 in Ndure & 2 in Xplore) participants at the rally this year, who displayed a lot of grit and determination.