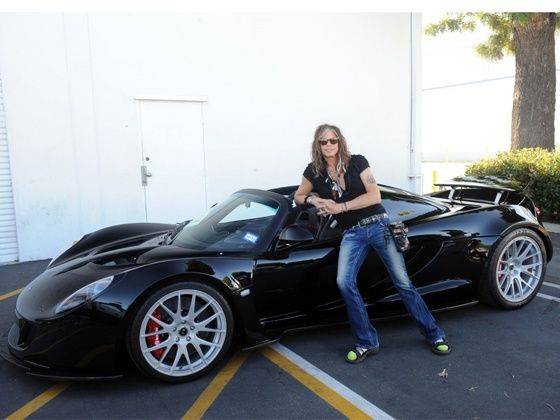 Rock and roll legend and Aerosmith star Steven Tyler has become the first person to take delivery of the outrageously cool Hennessey Venom GT Spyder. The car, like the owner is absolutely remarkable. One is a Rock and Roll Hall of Famer while the other is the world's most powerful convertible hypercar.
There is a reason behind the two forming such a perfect picture. In 2011, Steven Tyler asked Hennessey if they could build a convertible version of the ferocious Venom GT. Company founder John Hennessey agreed. Here is what he had to say, "We had to make a few structural changes to our integrated rollcage in order to be able to fit the removable top. This increased the weight of our vehicle by about 30lbs to a curb weight of 2743lbs (1244 kilogrammes). We decided to increase the Venom GTs' power to 1261PS to maintain our one horsepower per one kilogramme power-to-weight ratio."
The Hennessey Venom GT Spyder packs in a 7.0-litre twin turbocharged V8 engine developing a massive 1261PS that can catapult the hypercar from 0-320km/h in a mere 16 seconds making it several seconds quicker than its main rival, the epic Bugatti Veyron Vitesse.
Only five Venom GTs will be built for the 2013 model year and three have already been sold. The price tag for this awesome piece of engineering is equally jaw dropping as its looks, at $1.1 million (Rs 6.08 crore).
Hennessey is an American tuning house that is responsible for creating some of the most obscenely powerful modified cars on the planet. The Hennessey Venom GT Spyder is a heavily modified Lotus Elise/Exige designed to provide an out of this world experience.