Someone Just Bought An MV Agusta F3 800 For Rs 80 Lakh!
by Alpesh
Aug 14, 2019
Views : 620
---
The proceeds from the sale went to a charity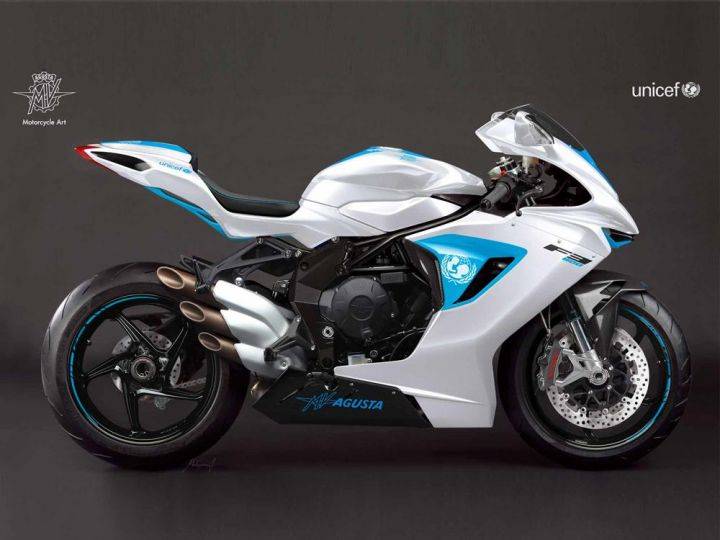 €100,000 (around Rs 80 lakh) is an insane amount of money. In fact, you can have five MV Agusta F3 800 RCs and still have a ton of money left for a track day somewhere in the world. That being said, someone just bought a "standard" F3 800 for that amount. The end proceedings went to UNICEF, which will be used to support underprivileged children worldwide.
The one-of-a-kind F3 800 sports a special white/blue paint scheme with UNICEF stickers on the tank, fairing and on the quarter panel. Now, we have seen MV Agustas draped in gold (seriously), but this white and blue paint job looks simple yet astonishing.
Apart from the special paint job, the motorcycle remains the same as the standard variant. So, it still is powered by a fire-breathing 798cc inline three-cylinder motor that churns out 150PS and 88Nm of torque. So, in case you were thinking that doing charity is boring, what would you say about this?
On a side note, MV Agusta knows that its motorcycles are (very) expensive, and to make sure that more and more people step foot in its showrooms, the Italian bike maker is planning to build small capacity motorcycles. Yes, you read that right. Now we live in a world where Harley has gone electric and is planning to bring a sub-500cc motorcycle.
Add Your Comments