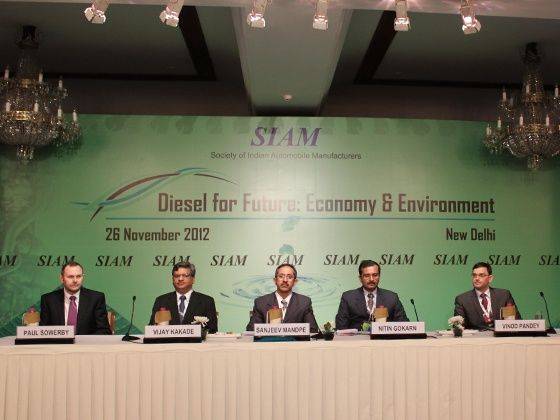 The paradigm shift of the Indian motorist towards diesel cars has been constantly under debate. The increased gap between diesel and petrol prices (owing to subsidies on diesel to protect the agricultural sector) has driven people towards diesel passenger cars across the scale. The result is a massive subsidy bill that has led to fiscal under recoveries for the government, leading to inflation.
The Society of Indian Automobile Manufacturers held a discussion on the theme of 'Diesel for Future: Economy and Environment' with members of the government and automobile industry to find a way to stabilise the situation.
In the opening address, Lowell Paddock, President and MD, General Motors India, stated that car manufacturers should hold the option of producing vehicles of a fuel type based on market demand rather than be regulated by taxation policies. He went on to talk about small capacity forced induction diesel engines and the way downsizing has and will in the future allow considerable efficiency from diesel engines.
Paddock commented that China and USA that are primarily petrol car markets will also experience higher demand for diesel cars due to improved technology and efficiency.
Ashok Dhar, President, Industrial Marketing, Reliance Industries, proposed that developing different grades of diesel for farm and railway sector and selling it at subsidised prices could be a way forward while passenger car grade diesel would be sold at market prices.
Dr Kirit Parikh, Chairman, IRADe, talked about the rising levels of pollution caused by higher numbers of diesel vehicles. This is caused by adulterated diesel mixed with kerosene as kerosene has higher subsidy on it than diesel. Unless this issue is tackled, pollution caused by diesel vehicles will be on the rise. A preventive measure is needed from the government to tackle the issue. Parikh said diesel prices should be regulated by market prices only. According to calculations, if diesel prices are no longer subsidised then inflation will rise by two per cent in the next four quarters, after which inflation will fall below current the rate. So subsidies must be removed now in parts (small diesel price hikes) to take care of fiscal under recoveries.
Another way would be to tax diesel vehicles further by making them more expensive. However, that payment can be broken down to monthly or annual instalments from buyers. This according to him should make customers go in for a more rational decision while buying a car, thereby bringing down the under recovery figure brought by subsidised diesel. This is a move that is needed to give stability to the government.
In the second session, chief guest Praful Patel, Minister of Heavy Industries and Public Enterprises, was of the view that fuel prices of petrol and diesel should be gradually balanced to balance demand and a higher percentage of fuel supply should be met domestically rather than with imported fuel.
He pointed out that people in India buy a diesel car purely because diesel is more affordable. For most people, concerns about pollution and the environment take a back seat when running costs are put into consideration. Taxes on diesel cars should be raised further to negate the impact of passenger cars benefiting from the subsidy on diesel.
In the concluding address for the Ministerial Session, Anant J Talaulicar, Chairman, SIAM Diesel Group and CMD, Cummins India, commented that diesel has its rightful place in an economy, but it should not have the only place in the economy.
In the first half of the year 2012, demand for diesel vehicles grew by 10 per cent whereas demand for petrol vehicles went up only by four per cent.
On the pollution front, Vinod Pandey from BMW commented that CO2 based taxation should be implemented in India like it is done in certain developed nations to drive people towards driving cars with lower emissions. However, the quality of fuel should be regulated first as poor quality fuel will negate clean technology in cars and can even damage engine components. According to him, the government should look at making BS 4 grade fuel available across India to reduce pollution. Pandey also mentioned that increasing diesel prices will bring down pollution levels in the country.
Vijay Kakade, Director, Automotive and Transportation Practice, Frost and Sullivan, said that subsidies on diesel have to be reduced to bring down the adverse Balance of Payments. Once this is done people will not go in for diesel vehicles only.
Murad Ali Baig said that pollution caused by diesel vehicles is a cause of worry. According to him, a major cause of concern is overloading of vehicles that causes increases pollution. No matter how good and clean diesel technology becomes if adulterated fuel and overloaded vehicles continue to pollute our air then the effect of efficient and clean technology becomes void. Phasing out of old vehicles is also required he said, as they pollute a lot more than modern vehicles.
Nitin Gokarn, CEO National Automotive Testing and R&D Infrastructure Project (NATRiP), said that before implementing BS 5 emissions norms in the future the road worthiness of vehicles needs to be verified to keep emissions under check. At present, authorities are overloaded and do not have the capacity to conduct checks.
According to him an investment of Rs 15,000 crore would be required to set up and successfully operate vehicle fitness check centres across the country. Earlier there has been news of the government looking to setup mandatory fitness checks in the capital of India to get the ball rolling.
Gokarn also said that a regime is required to phase our not just heavy commercial vehicles but light vehicles as well to keep a tab on pollution.
In the concluding question and answer session, Sanjay Bondopadhyaya, Joint Secretary of the Ministry of Road Transport, said that the government is looking at supplying BS 4 grade fuel in 60 cities across India and that at the moment 30 per cent of the fuel supplied in the country is BS 4 grade fuel.
The conference ended with the government and private players largely in favour of removing subsidies on diesel to correct the adverse Balance of Payments in the economy thereby capping inflation to an extent. This would create a balanced demand for both petrol and diesel that can be met to a greater extent by the country. Creating different grade of diesel for passenger cars could also limit subsidised diesel for the agricultural and transport sector thereby keeping a check on subsidies.
As for the issue of tackling pollution, scrappage schemes, fitness tests and supply on unadulterated fuel combined was unanimously vouched for as the solution for a cleaner environment because realistically alternate fuels are not capable of meeting the fuel demands of the entire nation.