The Next-Gen Ghost Is A Sleeker & More Modern Generational Upgrade
---
A twin-turbo V12, sleeker looks, a boatload of creature comforts and more for Rolls-Royce' latest iteration of its entry-level luxury sedan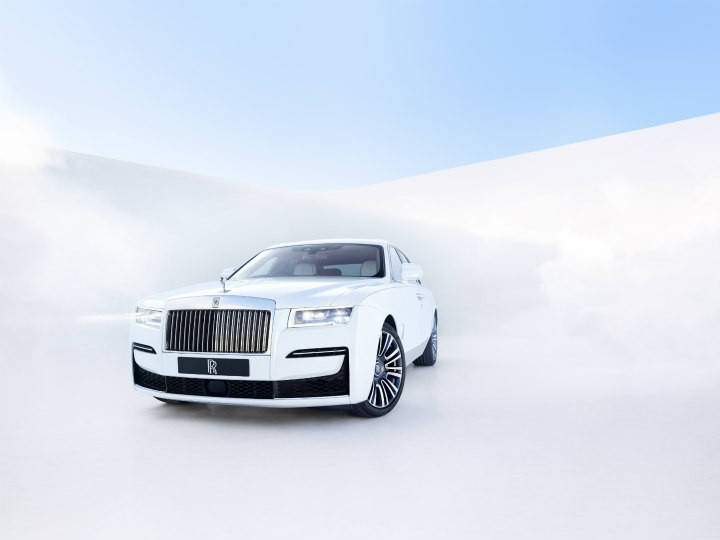 Design highlights include an illuminated front grille, new laser headlights with LED DRLs and angular tail lights.

Cabin is minimalistic yet more modern with digital gauges, electric open/close doors, a head up display and more.

It also gets an illuminated dashboard and up to 100kg of sound cancelling materials.

Powered by a 571PS/850Nm 6.75-litre twin-turbo V12 engine, it goes from 0-100kmph in 4.8 seconds with a 250kmph limited top speed.

Other performance trickery includes a new suspension setup, all-wheel drive and all-wheel steering.

Expect an India launch soon after the car goes on sale globally.
After almost a decade-long stint with its predecessor, and a long teaser campaign, Rolls-Royce has officially taken the wraps off its second generation Ghost luxury sedan. Underpinned by the same aluminium space frame architecture as the Phantom and Cullinan, it features an evolved design, more modern creature comforts and twin-turbo V12 power.

While the overall silhouette is familiar, it has gotten a growth spurt. Overall length has gone up by 89mm compared to the first Goodwood Ghost, at 5546mm, with its overall width growing to 30mm at 1978mm.

It also got some modern styling bits at the front with a new pair of laser headlights paired with rectangular LED DRLs. The headlights are capable of a visual range of up to 600mm. There is also a carryover bit in the form of the Spirit of Ecstacy. Look closer and you'll notice an illuminated front grille as well. Other changes include revised air intakes, restyled wheels, a smoother rear roofline, and more angular tail lights to make up a clean and sleek design.

Entering the new Ghost is now an even more premium experience as the carmaker has added electric opening and closing doors, with only a pull of the door handle required to automatically open the door. That said, the cabin borrows the wing-shaped wood trim from the Phantom. It's a bit more minimalistic yet modern, with digital gauges, a head-up display, Wi-fi hotspot, a 1300W bespoke audio system and the latest infotainment system.

A neat rounding off for the cabin is the presence of an illuminated dashboard with 152 LEDs used for the Ghost nameplate, more than 850 stars, and over 90,000 laser-etched dots carved into the surface of the dashboard. Premium cabin insulation comes in the form of 100kg of sound-absorbing material spread around the roof, the 507-litre boot and floor.
It's also packed with safety assists such as vision assist, day and night-time wildlife and pedestrian warning, alertness assistant, a four-camera system with panoramic view, active cruise control, collision warning, cross-traffic warning, lane departure and lane change warning.

Under the hood, the next-gen Rolls-Royce Ghost is powered by a 6.75-litre twin-turbo V12 engine. delivering 571PS of outright grunt and 850Nm of twist. Paired to a ZF 8-speed automatic transmission, this gives the luxury sedan a 0-100kmph sprint in 4.8 seconds and an electronically limited top speed of 250kmph.

Powertrains aside, it now features an all-new suspension setup codenamed the Planar. A result of three years of development, this new suspension system consists of three key elements with the first one being an upper wishbone damper unit, mounted above the front suspension assembly to aid stability. Next up is the Flagbearer system that uses cameras to analyse the road ahead and adapt the suspension system according to the road surface. The third element is Satellite Aided Transmission that uses GPS data to pre-select the optimum gear while taking corners. It also gets all-wheel drive and all-wheel steering.

Back home, the current-gen Ghost is no longer on sale, so expect the new Ghost to make its way to Indian showrooms as soon as it goes on sale globally. It will take on the likes of the Bentley Flying Spur and the upcoming next-gen Mercedes-Maybach.