Sebastian Vettel Takes A Ferrari 1-2 In Singapore GP
Sep 23, 2019
Views : 2290
---
It is Ferrari's third victory of the season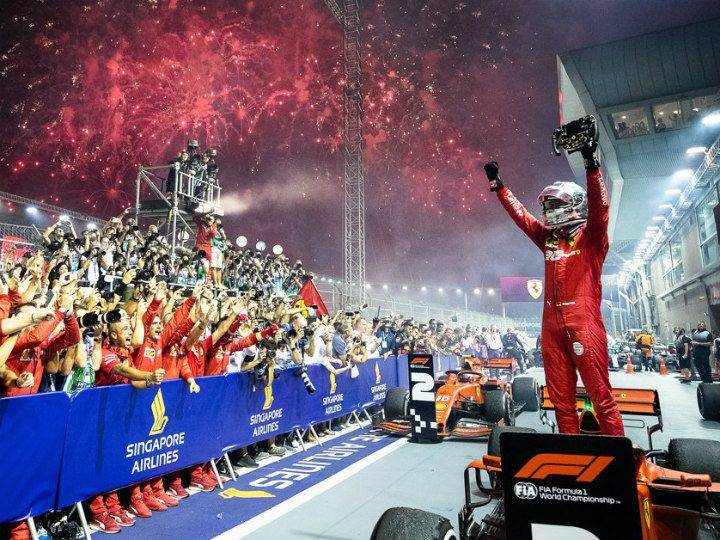 With 5 wins, Sebastian Vettel is now the most successful driver in Singapore.
It was a race-long battle of strategies, with the undercut catapulting Vettel into the lead from 3rd place.
Leclerc and Max Verstappen are now tied for third in the title fight, with Vettel only 6 points behind.
After Ferrari's double whammy with wins at Belgium and Italy the Italian team was braced for a difficult weekend as F1 headed to Yas Marina for the Singapore Grand Prix. However, Ferrari's latest aero upgrades gave a shocker as Sebastian Vettel took his first win since Belgium 2018 with Charles Leclerc in 2nd, making it a Ferrari 1-2 on a track not suited for their car. Max Verstappen finished in 3rd as the race's strategic factors led to the two Mercedes of Lewis Hamilton and Valtteri Bottas in 4th and 5th.

Saturday saw Ferrari's Charles Leclerc take his 3rd pole position in a row and his 5th pole of the season with Mercedes' Lewis Hamilton in 2nd and Sebastian Vettel in 3rd. Valtteri Bottas struggled to 5th, being sandwiched by the Red Bull Honda duo of Max Verstappen and Alexander Albon in 4th and 6th. The midfield was another mixed affair with Carlos Sainz 7th for McLaren, Renault's Nico Hulkenberg in 8th, Mclaren's Lando Norris in 9th and Alfa Romeo's Antonio Giovinazzi in 10th.

The race got off pretty clean in the top 6 with Leclerc holding on to the lead. But there was utter carnage in the midfield with incidents between Carlos Sainz and Nico Hulkenberg for 7th resulting in punctures and unscheduled pit stops, dropping them to the back of the grid. Renault's Daniel Ricciardo started at the back after being disqualified from 8th in qualifying due to a technical infringement, and had some close calls with Williams George Russell, with the Brit losing out.

The initial stint was a game of strategy as Leclerc managed the pace out front to such an extent to not allow Hamilton to try for an undercut strategy. However, on lap 20, the teams triggered their first and only pitstops, starting with Vettel and Verstappen. This turned out to be the most crucial pitstop for Vettel as his blistering outlap not only had him jump 2nd-placed Hamilton but his own teammate Leclerc for the lead of the race.

The biggest loser in the first round of pitstops was Hamilton, who dropped to 4th after running a close 2nd to Leclerc. The rest of the race saw a variety of strategies play out with 3 safety cars coming out thanks to the crashes of Kimi Raikonnen, George Russell and Racing Point's Sergio Perez. Things also got a little frosty between Leclerc and the team, with the Monegasque driver questioning the strategy call that costed him the race win. Eventually, the two Ferraris of Vettel and Leclerc led home a 1-2 for the team and their 3rd successive win of the season. Verstappen, Hamilton, Bottas and Albon covered the rest of the top 6 finishers.

Lower down the field, Lando Norris bounced back from a difficult previous 2 races to finish 7th for McLaren and 8th place for Toro Rosso's Pierre Gasly. Hulkenberg recovered well for 9th, with Antonio Giovinazzi rounding off the points finishers. Rounding off the 17 finishers is Romain Grosjean for Haas, Sainz, Stroll, Ricciardo, Kyvat, Kubica and Magnussen.

With this result, Hamilton may have lost out to the two Ferraris but he still has extended his championship lead over his teammate Bottas. Ferrari's recent upsurge in form has led to Leclerc and Verstappen tied on points for 3rd place with Vettel just 6 points behind in 5th. Mercedes still hold a massive lead over the rest in the constructor's standings.

Formula One will now head to Sochi for the Russian Grand Prix to be held between September 27-29. With Ferraris coming on strong in recent races, we could expect a three-way fight between Mercedes and Red Bull for top honours. Could Vettel's recent win give Ferrari that extra momentum, or was Singapore an anomaly? Stay tuned for a comprehensive coverage of the 2019 season on ZigWheels.com.
Also Read:
Image Source- Formula1