Sebastian Buhler to replace injured Oriol Mena in Hero MotoSports 2020 Dakar Rally squad
---
Aggravating one of his existing injuries sustained in a testing crash has forced Hero MotoSports Team Rally's star rider to miss the 2020 Dakar Rally
Oriol Mena had finished seventh and tenth overall in the 2018 and 2019 Dakar Rally events, respectively.
A crash during testing prior to the Morocco Rally this year had left the Spanish rider with a broken scapula, clavicle as well as five broken ribs and a damaged arm.
Twenty-five-year-old German Sebastian Buhler will replace Mena and join Joaquim Rodrigues, Paulo Goncalves and CS Santosh for this year's event.
Buhler has been a top twenty finisher at this year's Dakar Rally and scored a podium finish at this year's Pan Africa Rally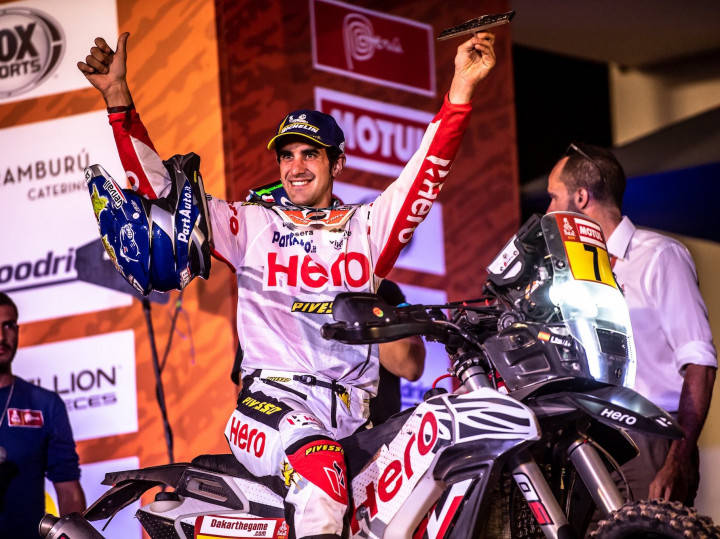 Hero MotoSports Team Rally has been dealt a blow prior to the 2020 Dakar Rally as their best performing rider - since their participation at the rally in 2017 – Oriol Mena has been forced to withdraw from the event.
The team reported that Mena had aggravated one of the existing injuries he had sustained in a testing accident prior to this year's Morocco Rally in October.
The crash saw the Spaniard suffer injuries to his ribs, scapula, clavicle and arm. After a period of rest, Mena did his best to try and recover in time for the Dakar Rally's inaugural edition in Saudi Arabia.

This included shockwave and ultrasound treatment to try and get the broken bones to fuse together as quickly as possible. But as it turned out, a period of barely three months was not enough for Mena to be back to full fitness.
The Spaniard will be replaced by Germany's 25-year-old Sebastian Buhler who finished 20th overall in this year's Dakar Rally in Peru.

Buhler also finished third overall at this year's Pan Africa Rally in late September.
Mena had given Hero MotoSports Team Rally its best ever result at the Dakar Rally in the 2018 event when he finished seventh overall. He followed that up by finishing tenth overall at this year's event. He had also finished sixth overall at the 5,000km (2,588km of special stages) Silk Way Rally this year.

Buhler now joins Hero's existing riders; CS Santosh, Joaquim Rodrigues and Paulo Goncalves for the Dakar Rally that is set to begin on 5th January next year.
Add Your Comments