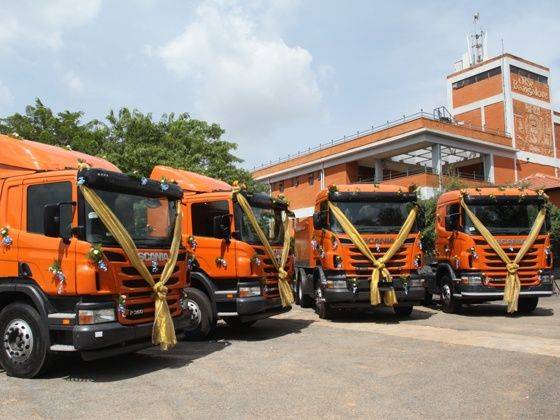 Like the car market, the Indian truck market is seeing reputed manufacturers setting up shop and offering low cost products.
After significant amounts of research Swedish commercial vehicle maker Scania has introduced four new trucks in India for trial runs. The company's strategy in India is to offer innovative products and services while keeping total ownership costs low.
The four new trucks include the R 500 6x4, G 450 6x4, P 410 6x2 and the P 360 4x2. They have been designed to be reliable and fuel efficient vehicles for long haul container handling, special bulk transportation and Over Dimensional Cargo (ODC) transportation.
The R 500 6x4 heavy duty puller is powered by a V8 diesel engine that generates 506PS of power with a high-low speed torque rating. The engine is mated to an automatic gearbox called the Scania Opticruise.
The G 450 6x4 is powered by a 13-litre engine that generates 466PS of power, and is mated to the Scania Opticruise automatic gearbox. The truck is said to offer higher torque than any other 13-litre truck on Indian roads.
The P 410 6x4 prime mover is the first of its kind multi-task master in India with 415PS of power. It has a movable tag axle that can raise two wheels to reduce fuel efficiency on long journeys.
The P 360 4x2 packs in 365PS of power and is equipped with air suspension. The P 360 4x2 is designed to transport fragile cargo on highways with a low turnaround time.
Henrik Fagrenius, Managing Director, Scania Commercial Vehicles India, said, "We believe that Indian truck buyers will have the benefit of an added choice – trucks with outstanding fuel performance and reliability that offer them value for their investment."
Also read: Scania Buses moving more aggressively towards adopting biofuels