The Tata group recently revealed a Nano which is the world's first ever gold jewellery car celebrating 5,000 years of jewellery making in India. The car that was launched with a Rs. one-lakh price tag now gets a Gold version made of 80kgs of 22 carat solid gold and 15kg silver along with nearly 10,000 precious stones like diamonds and rubies. Although the car is not for sale, it has been valued at Rs. 22 crore which is more than the cost of the Aston Marin One-77 in India.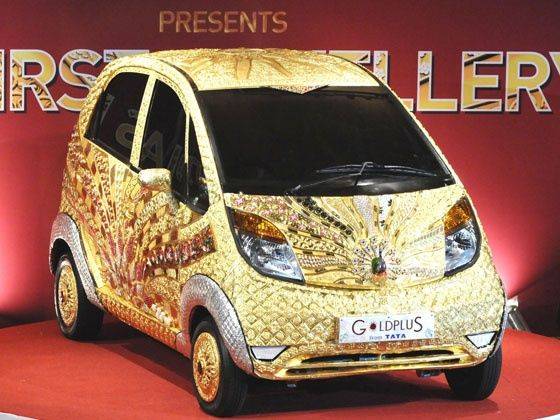 The car has been revealed as a promotional and branding technique in association with Goldplus Jewellery, a part of Titan Industries, a Tata group company. 14 techniques of jewellery making including complex filigree to delicate meenakari work the car is a mark of an assortment of culturally distinct jewellery making techniques from across the country.

The fully functional car that was unveiled by Ratan Tata, the Chairman of Tata group in Mumbai, will make its way to all the Goldplus showrooms at 29 locations in India.

The one-off car has been beautifully crafted, and is a combination of incredible engineering and a masterpiece in art jewellery making.