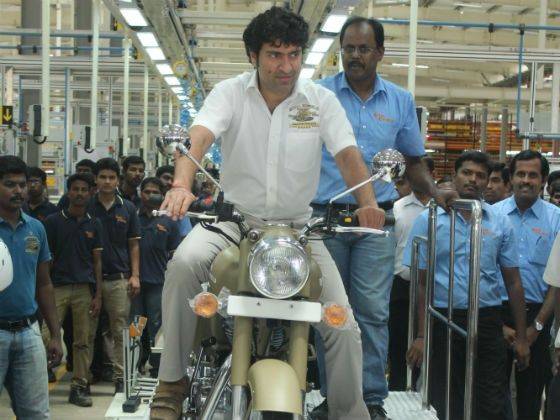 This is the news piece every Royal Enfield enthusiast has been longing to hear! The company today rolled out the first motorcycle from its new plant at Oragadam in the outskirts of Chennai. This is RE's second production facility and has been constructed at an investment of Rs 150 crore for the first phase of the facility. The new plant was completed in just 11 months and is spread across 50 acre -- five times the size of the older plant at Thiruvottiyur near Chennai! With the new facility operational, waiting periods on some of the models are expected to go down from the present eight months to six months -- something that should come as a relief to to prospective RE bike buyers.
Speaking on the occasion, Siddhartha Lal, Eicher Motors Managing Director and CEO, said, "At Royal Enfield we have recorded a major milestone today with this plant at Oragadam becoming operational. Royal Enfield has witnessed a huge surge in demand in the recent past, recording a growth of over 50 per cent for each of the last two years. However, even as we start commercial production today, we have already begun working on the second phase of expansion at Oragadam, which will further increase the production capacity to 250,000 motorcycles in 2014."
Apart from hiking production capacity, the new facility optimises production costs by merges relevant automation with human craftsmanship. A new CED (Cathodic Electrocoat Deposition) paint shop with a capacity of 600 motorcycles per day has been set up. Further, a robotic painting system and powder coating system have also been employed to reduce wastage.
According to company officials the new plant has a capacity to produce 1.50 lakh units initially which it hopes to hike to 1.75 lakh units by the end of the year. Royal Enfield has set a target to produce 2.5 lakh units by 2014 from 1.13 lakh units it managed to produce last year. As of now only the Desert Storm and Thunderbird 350/500 models will be manufactured at the new facility though other models from the RE portfolio will be added in the long run. Royal Enfield currently employs 200 people and have said that its workforce will be extended to 500 by end of the year.