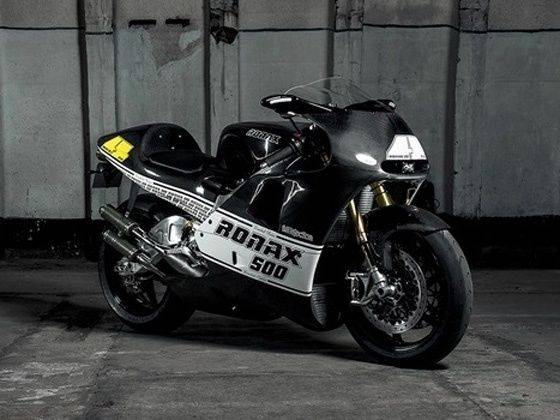 2-stroke aficionados it's time to rejoice as German firm Ronax GmbH has unveiled a road legal 2-stroke superbike, the Ronax 500. The motorcycle has been inspired from the legendary NSR500 Grand Prix racing bike, the last 2-stroke bike to win a MotoGP championship before it shifted to four-stroke and was piloted by none other than Valentino Rossi himself. Powering the Ronax 500 is a 500cc, V4 2-stroke motor churning out 162PS at 11,500rpm with two counter-rotating crankshafts that has been housed inside the milled aluminium engine block. Power is transmitted to the rear-wheel via a six-speed gearbox.
The 2-stroke mill gets fuel-injection for better rideability and the bike has been equipped with a sport and rain electronic ignition map. Visually, the bike looks an out and out track bike but since it is a road legal offering, it has been equipped with twin headlamps that have been neatly tucked away in the air duct and rear-view mirrors with integrated LED turn indicators. Another visual detail that accentuates its resemblance to the NSR500 GP bike apart from its silhouette are the four carbon fibre tipped mufflers. The Ronax 500 uses an all-digital instrument cluster akin to modern superbikes.
Ronax have employed top-spec cycle parts on the bike like Ohlins sourced suspension and steering damper, Brembo brakes, aluminium swingarm and footpegs alongwith forged aluminium rims. Ronax have made extensive use of carbon fibre in crafting the bike that includes the body, fuel tank and airbox. Owing to this, the Ronax 500 tips the scale at 145kg (dry weight). With a lightweight body, top-spec cycle parts and a manic 2-stroke motor it should result in the Ronax 500 being a hoot to ride, at least on paper. But like most good things in life, even the Ronax 500 comes with a hefty price tag of Rs 81 lakh (excluding taxes), which means it will be restricted to the super rich. Also, to maintain exclusivity, the Ronax 500 will be limited to just 46 units and one can pre-book it with a down payment of Rs 24 lakh and the waiting period is six months.