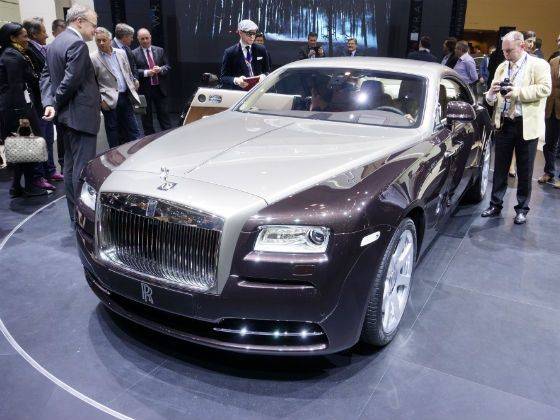 After a seemingly endless stream of teasers, Rolls-Royce finally un-wrapped its latest offering, the Wraith at Geneva. Touted as the most powerful Rolls-Royce, the Wraith is powered by a 6.6-litre, twin-turbo V-12 capable of pumping 632.5PS of power and an impressive 800Nm of torque to enable it to glide from 0-60mph in 4.4sec. The powerplant is mated to an eight-speed ZF automatic transmission.
The Wraith is the first car to debut with Rolls-Royce's Satellite Aided Transmission (SAT) technology. The SAT utilises GPS data to pre-select gears – based on location and driving style, selecting the most appropriate gear for the terrain that's up ahead. According to Roll's this technology has been designed to give the driver a more polished and effortless driving experience.
The elegantly designed fastback suspension has been tuned to minimise body roll whereas the steering has been set in such a manner that it gets heavier as speed increases and lighter at low speeds. The Wraith is 130mm shorter than the Ghost, and its wheelbase has been tightened by 183mm whereas it's also 40mm wider and 43mm lower giving it a solid stance and improved handling.
Once you open the suicide-style doors a familiar Rolls-Royce cabin layout is visible which is elegant and classy. The Wraith is loaded with all kinds of gadgetry like heads-up display, adaptive headlights, and keyless trunk control. The new voice-activation commands now come with through a one-touch button on the steering wheel while a destination no longer requires manual input from a navigation menu.
Alike the Ghost, 'night sky' headlining is available on the Wraith. It creates an interesting ambiance thanks to 1340 LEDs hand-woven into the headlining to given an impression of a starry night sky. Inspired by the boating industry, the Wraith gets elegant touches like marine-grade wood-panelling which adds more class to the interiors.
Bookings for the flagship coupe have started and Rolls-Royce has priced it at Rs. 1.65 crore. Though it's priced considerably higher than its main rival, the Bentley Continetal GT, it's been a long time since both the luxury marques have been paired against each other directly. It will be interesting to see whether Roll's latest offering can de-throne the Continental GT from the top to become the best luxury tourer in the market.