Rolls-Royce Black Badge Models Defy The Black Cliche With Neon Nights
---
The neon colours are inspired by exotic plants and animals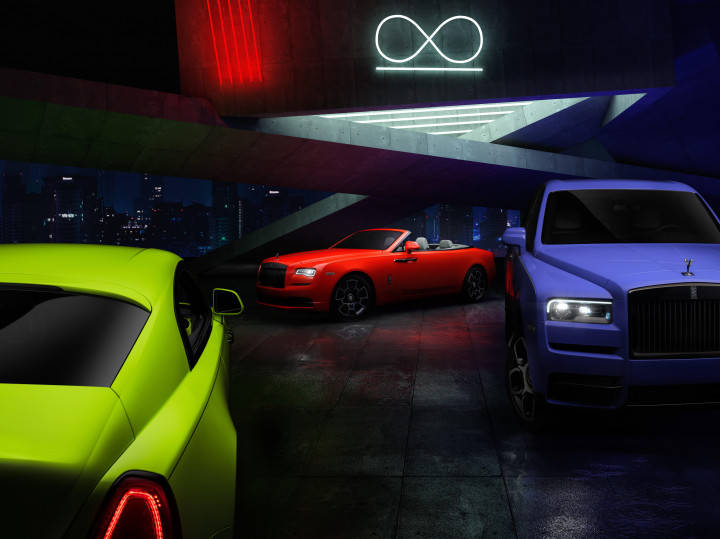 Rolls-Royce has decided to break the stereotype it set for itself by offering neon paint jobs for its Black Badge models: Wraith, Dawn, and Cullinan. The Black Badge models come with upgraded powertrains, increased luxury, and bespoke all-black styling. Each of the three models gets its own specific neon paint option inspired by an exotic plant or animal.

Starting with the Dawn Black Barge, the drop top luxury grand tourer gets an Eagle Rock Red inspired by the flowers from the Hawaiin tree 'Ōhi'a lehua. The interior is finished in grey with bright red accents.

The Cullinan's bright neon blue is borrowed from the wings of the exotic Rhetus periander butterfly, also known as the Periander metalmark, found in Central and South America. It gets a white leather interior with lime green accents.

Probably the tackiest, the Wraith gets a neon green paint job, similar to the Australian green tree frog. Inside, the black interior is replaced by a dark grey colour scheme lined with neon green accents.

All three models and their respective neon colours collectively form the Neon Nights' Trilogy, with the luxury carmaker trying to draw attention to the beauty of the environment. Rolls-Royce has also tried to break the stereotype that all Black Badge models should be all-black, despite that literally being the name.