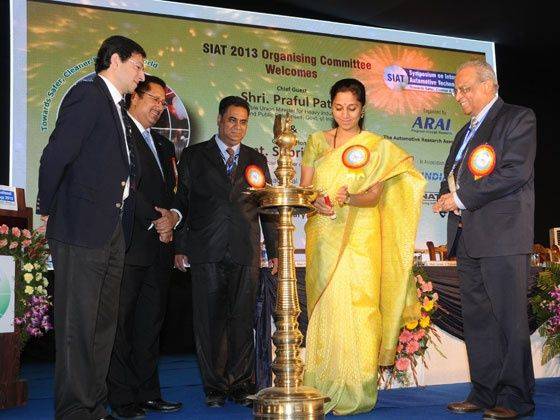 At the recently inaugurated 13th Symposium on International Automotive Technology (SIAT) organized by The Automotive Research Association of India in association with SAEINDIA and NATRIP at the ARAI Campus in Pune, MP, Supriya Sule addressed the urgent need to improve road safety levels in the country.
While appreciating the growth of auto industry from the consumer's point of view, Sule opined that safety is not a priority in the common man's life and that it must get its due attention. She praised the Road Safety Policy of Tamil Nadu and stressed upon the need to have such a policy in other states.
Citing examples from her childhood days, Sule went on to say that today's younger generation gets to drive fancy cars with so many options to choose from. She further added that a car today has not only become a part of the urban family but is also visible in rural parts of the country. However, the gap between the growth of the automotive segment and its infrastructural requirements needs to be filled in order to create safer roads.
This divide can be better understood when we compare Praful Patel's (Minister of Heavy Industries and Public Enterprises, Government of India) industry update via a video clip as he was unable to attend inaugural function of SIAT 2013 to Sule's statistics on accident rates in recent months.
According to Patel India's automotive industry is currently manufacturing around 3 million units a year (excluding two wheelers), which is likely to touch the 10 million in a decade. While this growth is commendable Sule's speech, which brought to light the fact that there have been over 65 deaths that have occurred due accidents on Pune – Satara highway alone over the last 3 months leaves more to mourn than make merry over.
Directed by its "Towards Safer, Cleaner & Quieter World" theme that is very much apt in today's context the SIAT 2013 was thus successful in throwing light on various ailing aspects of the Indian automotive arena.
On till the 12th of January 2013, the focus of this symposium will be on innovative advancements in automotive technologies to meet future challenges and explore various areas to design and develop environment-friendly automobiles.
It will also cover other aspects such as Engines, Alternative Fuels, Electronics, Structural Evaluation, Vehicle Engineering, Materials, etc. Over 195 Technical Papers, including 36 Keynote Papers, are to be presented during the 13th edition of SIAT.