These Cool Electric Classic Cars Are Ready For A Combustion-Free Future
---
Electric powertrains will allow these beautiful cars to stay operational for many years to come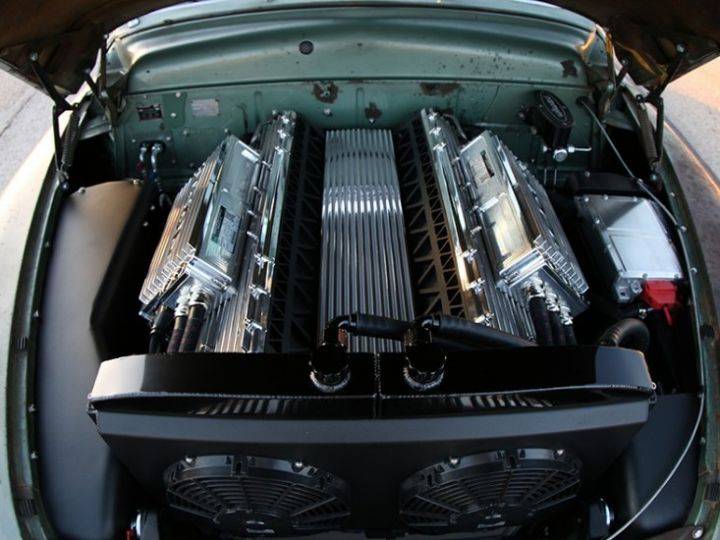 Reversible electric car conversions are being offered by car companies for legacy models.
Governments around the world are curbing the use of petrol and diesel cars.
Electric powertrains are aimed at keeping classic cars operational, and making them more sustainable and reliable.
Electric vehicles (EVs) are on the rise around the world, with sales figures growing rapidly in many countries. European, American, and Chinese markets are driving both electric car sales as well as research and development. The same change is set to occur in India, with supportive government policies and growing infrastructure. But while most electric car manufacturers are building futuristic cars and trying to change the way humans interact with vehicles, some people are future-proofing automotive classics by turning them into electric cars. The automotive community is divided about converting valuable, unrestored cars lovingly kept by wealthy septuagenarian owners, industry experts believe that EV conversions are a second lease of life for these vehicles. Here's a list of iconic vintage and classic cars which have been turned into reliable, durable EVs by carmakers including Aston Martin and Jaguar, as well as EV startups like Lunaz Design and Morris Commercial:
Jaguar E-Type Zero
Jaguar Classic is the last word on Jaguar restoration, with expert engineers and historic car specialists who help maintain show cars and turn barn finds into valuable collections. In 2018, the company transformed the Jaguar I-Pace's drivetrain and fitted it into the legendary E-Type's frame to create the E-Type Zero, which debuted at the royal wedding of Prince Harry and Meghan Markle. Based on the Le Mans-winning D-Type (which is being revived under Jaguar Classic's Continuation Series) the E-Type Jag is one of the most iconic and coveted sports cars ever built. Jaguar Classic prides itself in its ability to maintain the ride and handling of the original despite the electric conversion. The E-Type Zero has a claimed range of 274km from its 40kWh battery. Jaguar asserts that the electric conversion is completely reversible. Expect to pay around GBP 300,000 or Rs 2.73 crore to convert your E-Type to a Zero. Jaguar will begin deliveries in 2020.
Lunaz Jaguar XK120
Jaguar won Le Mans races from 1955 to 1957, but they couldn't have done it without the inline-six cylinder XK engine, which came from one of the most influential sports cars of the 1950s - the XK120. Lunaz Design, an electric car startup located near Silverstone in the UK, has created the Lunaz XK120, an all-electric restomod version of the original handbuilt car. It has a split battery pack which is located under the bonnet and in the boot, leaving the floor unmodified. It comes with upgraded brakes with electronic brake distribution, stiffer suspension and anti-roll bars, traction control, and anti-lock braking system(ABS). Yet, LED headlamps notwithstanding, the XK120 "would easily pass for an untouched original all but for the absence of an exhaust pipe" says the company.
Aston Martin DB6 Electric
Paul Spires, the President of Aston Martin Works, asserts that the change to an all-electric drivetrain is inevitable, and wants to prevent Aston Martin classics from becoming museum pieces. For this reason, he signed off on the project which created the Aston Martin Works DB6 electric vehicle. Essentially, the car is an impeccably preserved pre-production test mule of the 1970 DB6 Mark 2 Volante which, with its combustion engine, is worth GBP 1.5 million (Rs 13 crore). Aston Martin is quiet about specs and abilities, but the running gear is from the upcoming Rapide E electric grand tourer. Astons of the DB6's vintage are some of the most expensive classic cars money can buy, but the conversion will cost GBP 200,000, or Rs 1.82 crore.
Morris Commercial JE Van
Conceived in 1948, the Morris Commercial JE (later Morris J-Type) van was the commercial vehicle of choice for post-war Britain. It was used for everything from delivering mail to carrying fresh milk to transporting people. For the last two years, a UK startup called Morris Commercial has been working on reviving the J-Type van to produce a sociable and clean van for the future. The company claims that the van's construction will be carbon fibre. "The result is an outstanding power-to-weight efficiency which fully maximises the range of the vehicle" says the company. No other details or specifications are out yet, but visual representations on the company website show LED taillamps. The J-Type van is an icon in British motoring history, and is still used as ice-cream trucks and in advertising campaigns like the Joymobile in 2013 Cadbury chocolate television commercials broadcasted in Australia and New Zealand.
Icon Derelict 1949 Mercury Coupe
"We leave the romantic and irreplaceable wabi-sabi finish on the exterior that only decades can create with honesty" says the website, referring to the Coupe's patina. Icon's Derelict division has created the electric car from the bones of a (possibly wrecked) Tesla Model S P85D. Icon is known for its Ford Bronco and Toyota FJ 4x4 restomod trucks, but the 1949 Mercury Coupe is special. Underneath the body stands a completely redesigned, re-engineered chassis built by Art Morrison Enterprises. The powertrain and electricals have been mounted on a hand-built structure under the bonnet which would fool most people into thinking it is a V8 engine. The American company owns a multitude of vehicles for customers to choose from for their own Icon Derelict wagon, but will also help you source the exact car you want. Icon custom builds each vehicle to be as durable and reliable as possible, driving each car for 1000-2000 miles (1600-3200km) before delivering it to customers. Prices can range from a few hundred thousand dollars to USD 1 million (Rs 7 crore) depending on specification.
Lunaz Rolls-Royce Phantom V
The Rolls-Royce Phantom V was produced between 1959 and 1968, and was the royal chariot of the British monarch, Queen Elizabeth II. Her mother had one, and so did John Lennon, even before he had learned to drive. Lunaz Design aims to make the Phantom V timeless, not as a museum piece, but as a daily driver. That's why it does not only have ABS, EBD, and traction control, but also conventional telescopic dampers and uprated brakes - six-piston calipers in the front, four-piston calipers at the rear. The battery pack, like the XK120, is split in two halves and is engineered and manufactured in-house by Lunaz. This Rolls-Royce Phantom is a restomod in the true sense - it appears to be a beautifully restored original, but drives like a modern car.
Add Your Comments