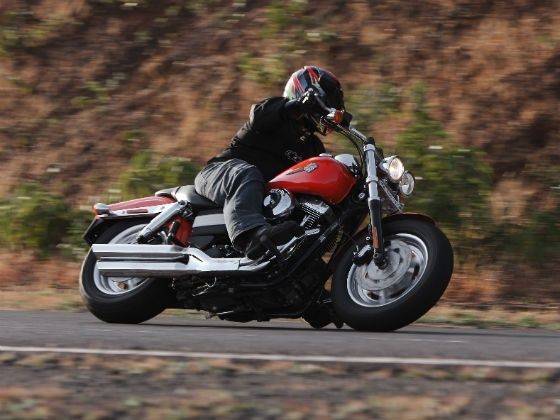 The vroom of premium superbikes is getting louder by the day with the monstrous, powerful machines making their way onto Indian roads faster than ever before. In a country where motorized two-wheelers bombilate louder than people can speak, luxury bikes are increasingly contributing their might.
Over the last one year alone, the number of luxury bikes (over 500cc in engine capacity) — the likes of Ducati, Enfield, Harley-Davidson or Hyosung — has almost doubled , according to data from the Society of Indian Automobile Manufacturers (SIAM).
"From 9,000 units sold in 2011-12, the market has widened, albeit on a smaller base, to about 16,000 units. Eicher's Enfield leads sales with about 12,000 annually," said Yaresh Kothari, research analyst (automobile), Angel Broking.
The market leader in India, Royal Enfield, sold 1,13,432 units in 2012, a 52% growth over 2011. It is also close to launching its 535cc Continental GT later this year, its fastest motorcycle to hit the streets. "The segment, when compared with the 10 million units for motorbikes overall, is small but is showing good growth," Kothari said.
The sector has managed to buck the slowdown and going forward, too, industry analysts foresee a 25% growth in the market. Abdul Majeed, leader (automotive practice), PwC India, said, "The segment is growing significantly with more people moving from the higher middle to the rich bracket. Over the last six months especially, I see more such premium bikes on the roads in cities like Delhi, Bangalore , Mumbai and Chennai." Most owners are biking enthusiasts and high net worth individuals, or HNIs, aged between 18 and 40 years. But going forward, "I won't be surprised if a lot of women own such bikes" , Majeed said. And this kind of interest comes not just from the metros but smaller cities and towns as well. South Korea's Hyosung, for instance, which has sold about 1,200 units in the last six months, sold a large chunk of it in towns in the North-eastern states like Meghalaya, Sikkim and Arunachal Pradesh.
DSK Motowheels, which sells Hyosung bikes in India, plans to set up shop in more Tier-II towns like Bhopal, Baroda , Mysore and Dehradun over the next few months, the company's MD, Shirish Kulkarni , said.
Harley-Davidson , too, saw an increase from 500 units last year to 1,300 this year, and also has plans to enter smaller towns like Kochi and in Goa. Yet, despite such growth, India still lacks the servicing ecosystem for premium bikes in the above-500 c segment. Almost all luxury bikes sold in India are assembled from completed knocked-down (CKD) kits that are imported, and experts say that not many know the bikes well enough to service them or have access to technology that the bikes work on.
Also read: Two-wheeler sales rise 2.90 per cent during FY 2012-13