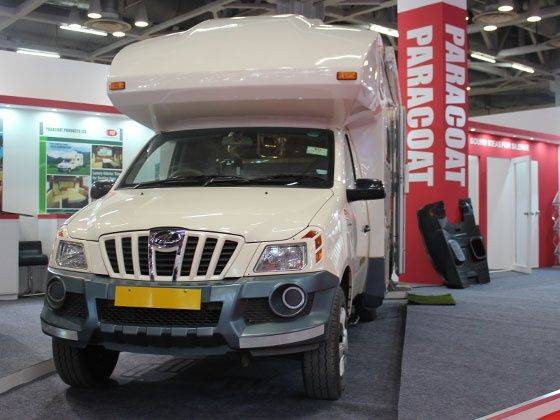 Automotive component maker PCP has introduced the Terra motorhome in India in collaboration with Van Tech of Japan and Siam Motorhome Company of Thailand. Based on the Mahindra Genio platform the PCP Terra can accommodate 7 people, including in the driver's cabin.
The living room of the Terra motorhome can seat 5 passengers, the living room can be adjusted to a bedroom to accommodate the passengers. The passenger compartment of the PCP Terra is partitioned from the driver's cabin and has a powered window for easy communication between the motorhome occupants and the driver.
Equipped with air conditioning, heating, a refrigerator, a microwave, a washroom, a shower, shelves (for storage), fresh/waste water display monitor and a multimedia system that is equipped with an mp3 player, radio, television and a DVD player the Terra can meet all the demands of those who want to travel at the comfort of a home. The Terra motorhome also has separate storage space for luggage and any other necessary travel equipment.
PCP offers the Terra motorhome in a choice of three colours and the cost of conversion has been pegged at Rs 28.5 lakh (ex-showroom). The PCP Terra is locally assembled in the country and the delivery time for converting a run off the mill Mahindra Genio into a fully kitted Terra motorhome takes between 10 to 12 weeks.
Also read: JCBL PLA launches motorhomes in India