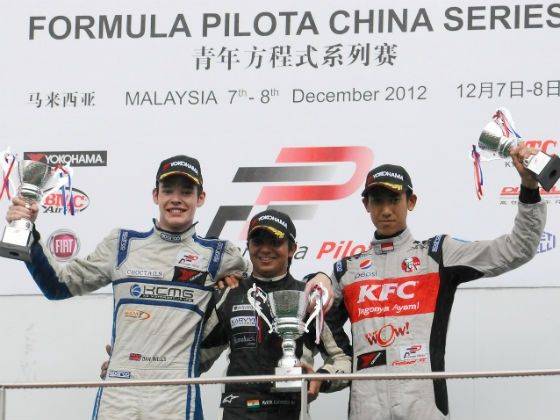 A win in Race 2 of Round 6 of the Formula Pilota Championship allowed Kolhapur lad Parth Ghorpade to take top honours in the Asian category and third place overall in the championship behind Antonio Giovinazzi and Dan Wells. Parth finished fifth in Race 1 and retired from Race 3 of the round.
By topping the Asian category, Parth now has the opportunity to participate in the four-day Ferrari Driver Academy evaluation, which includes a F3 test, physical and psychological tests and a day of simulator testing. Parth is the first Indian to make it to the Ferrari Drivers Academy evaluation programme, that assesses young and upcoming talent at national and international levels.
The wet, tricky conditions at the Sepang circuit demand a textbook set-up the lack of which cost Parth dear in qualifying. Starting from ninth, he managed only a fifth place finish, but posted the second fastest time of the race to secure P2 for Race 2.
In Race 2, Parth passed pole-sitter Giovinazzi into C1 and never looked back. He stayed ahead of the order to finish on top to seal the Asian championship with one race to go. He retired from Race 3 with front wing damage after he was nudged from the back on lap 1.
"After our worst qualifying of the year we knew we had to take some risks to move up the grid. Fifth in the first race was the best I could do. In the second race I got a great start and went into the lead with Antonio behind me. I managed to pull away but then it started raining and the track became very slippery with slick tyres. On the last lap it was really hard to keep the car on track but was determined to win this one," Parth said.
Parth is also part of the MRF Challenge 2012 and after a tough Round 1, he secured two top 10 finishes in Round and can now focus his energies on this series.