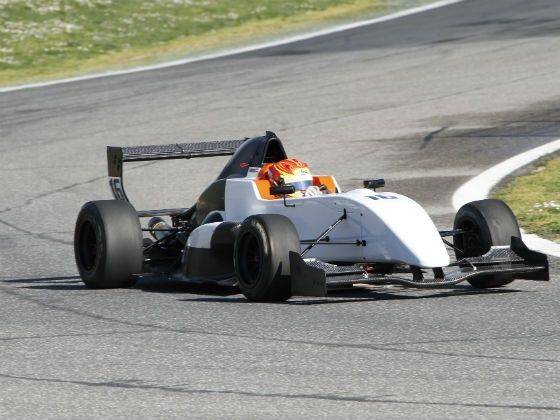 The 2012 Formula Pilota Asian Champion, Parth Ghorpade, has been confirmed for a drive with BVM Racing team for the 2013 season in the Formula Renault 2.0 ALPS series. The 19-year old will be the first Indian to race in this series. Parth will drive a Clio III Renault Sport engine powered machine producing 254PS of power, featuring a 7-speed sequential gearbox and a pushrod suspension.
For most drivers heading to race professionally in the single-seater racing category, the Formula Renault 2.0 ALPS is one of the most competitive feeder championships to the Formula Renault 3.5 World Series. Graduates of the Formula 3.5 World Series include Formula 1 drivers such as Sebastian Vettel, Robert Kubica, Jean-Eric Vergne, Daniel Ricciardo, Charles Pic Pastor Maldonado and Will Power.
Parth will team up with 17-year-old Italian racer Dario Capitanio for BVM racing and race against 28 other drivers on the Formula Renault 2.0 ALPS grid. BVM racing has previously taken top honours in several championships including the Italian Formula 3 Championship and Formula Abarth Championship (Italian and European). The team also competes in the Formula Renault 3.5 World Series.
On having an Indian aboard, Team owner Giuseppe Mazzotti said, "I am confident that we will have a good season together. I am very happy to have a driver of Indian nationality in our team as we have worked in the past with many international drivers, but never Indians. India is making waves in the motorsport world and I am convinced that this successful partnership will open doors for us to work with the other great talents from the region."
The Kolhapur lad completed a three-day test with his team at Adria and later a collective test with the rest of the grid at Vallelunga. Parth missed out a chunk of the official pre-season tests, but was still running in the top 10 of the grid throughout the weekend, in his very first outing in the new car.
After a good run in his first outing in the car and new team he said, "I was surprised on how I adapted to the car with ease and I must thank the BVM Racing team for making this possible. Testing was very positive but there is a lot more work to do and I hope we can be competitive at the first race in Vallelunga. Testing also showed us how competitive this series is with the top 20 cars within one second of each other."
Parth's race engineer, who played a vital role in helping him win the 2012 Formula Pilota Asian Championship, Mario Gargiulo, said, "I knew that he would be well adapted to the new car and that he also learned pretty quickly the tricks of a difficult track at Vallelunga. During the test his performance improved run after run and, more importantly, he gave important feedback to further develop the car. I'm sure we can have a very good season together and ensure that he gets due recognition in the European motorsport circles."
The Formula Renault 2.0 ALPS series will have seven rounds with every round consisting of two races each. Each race weekend starts with three 60 minute practice sessions on Friday followed by qualifying and Race 1 on Saturday and the Race 2 scheduled for Sunday.
The series calendar visits legendary circuits such as Monza, Imola, and Spa-Francorchamps (Belgium). The season is scheduled to be kicked off on April 7, 2013, at the Vallelunga circuit in Italy.