OMG: You Might Think This Is A Mini Cooper But It's Actually A Pad-Mini!
Jul 12, 2020
Views : 1339
---
A variety of extensive modifications were done to make this happen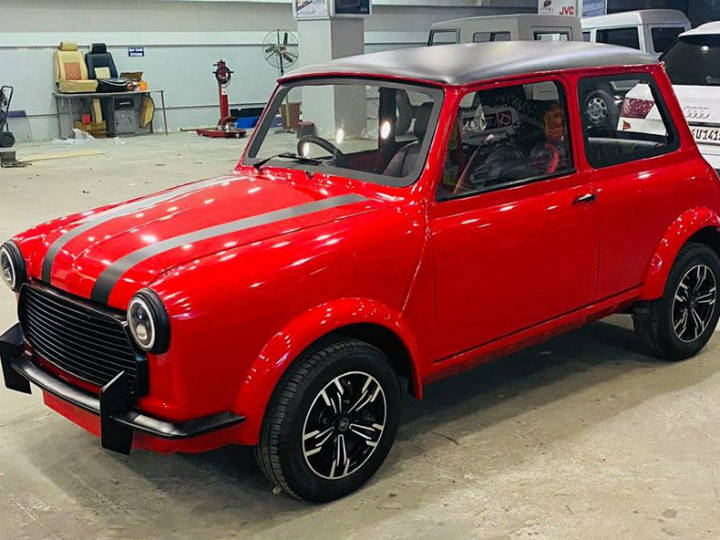 The Premier Padmini is well known as one of the biggest status symbols of the 70s with its simplicity compared to the Hindustan Ambassador. It is still famous for being the choice of transport for India's financial capital, Mumbai, in the form of 'Kaali Peeli' taxis. Loyal owners and fans of the Padmini usually restore the old sedans and keep them in mint condition. But Coimbatore-based SUN Enterprises has gone the extreme way and modified the Premier Padmini to look like a Mini Cooper of the 60s, or more accurately, a Pad-Mini. And it's a heck of an effort to pull that off!

Various modifications were made to the Padmini to make this possible. The biggest one being the amputation of the entire boot area. This also includes the rear doors of the vehicle to give off that Mini Cooper vibe. To cap off the amputation work, the rear now features a low-slung boot lid like the iconic hatchback.

Since the Premier Padmini's front end design isn't too different from the Mini Cooper, not much had to be modified at the front. There are also some modern bits in the Pad-Mini like the circular headlights being LED units and dual-tone alloy wheels. The classic red-black colour combo with stripes at the hood and a blacked-out roof round off the exteriors.

Heading inside, the red-black colour combo continues around the cabin and leather upholstery. The dashboard gets some classic dials and a custom steering wheel. For those worried about access to the rear seats without the rear doors, you only need to fold the passenger seat to access them. There is no word on any modifications done under the hood.

How much did this extensive transformation cost you may ask? It is said to be around Rs 8 lakh. Sure, that sounds a bit steep for a car as old as the Premier Padmini, but the results definitely make it a head-turner. What do you think about this Pad-Mini disguised as a Mini Cooper? Let us know in the comments below.
Add Your Comments